A bed of one's own: How the Matthew House Furniture Bank helps newcomers feel welcome
For some, the donated bed and mattress they choose at the Matthew House Ottawa Furniture Bank on Legget Drive might be the first bed they've ever called their own.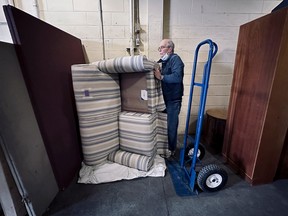 Article content
There's no ballroom for kids to play in or Swedish meatballs on the cheap for lunch, but for thousands of newcomers to Ottawa, a visit to a cramped and crowded warehouse in Kanata is like a home-making dream come true.
Article content
For some, the donated bed and mattress they choose at the Matthew House Ottawa Furniture Bank on Legget Drive might be the first bed they've ever called their own.
Article content
Matthew House takes its name from the Bible (Matthew 25:35 "… I was a stranger and you invited me in … "), and the non-profit social service agency has been helping refugee claimants and asylum seekers feel welcome in Ottawa since 2010. In 2022, it set a milestone by outfitting 1,040 homes, the most ever in its 12 years of operation in the city.
"Say you've been homeless and you finally get access to affordable housing," said executive director Allan Reesor-McDowell. "You get into your apartment and there's nothing there. You can imagine what those basic needs are for someone: beds, a sofa or a comfortable place to sit, a kitchen table, kitchen chairs … ."
Article content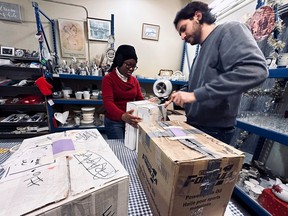 Inside the warehouse, a well-lit "showroom" displays sofas and easy chairs, floor lamps, dressers and wardrobes. There's a room filled with stacks of kitchen chairs. In another, shelves of kitchenware, cutlery and framed artwork. Stacks of newly arrived donations line one wall while along the other, more furniture sits tagged and awaiting delivery to a new family. In one corner, there is a tiny workspace where damaged furniture is repaired.
"When someone gets referred to us, we give them a specific time to come to the warehouse," Reesor-McDowell said. "We say they 'shop' but the furniture doesn't cost anything. But we want people to have an experience that's as dignified as possible."
Matthew House also offers a reception centre and transition housing for newly arrived refugees along with support services to help them in establishing their new lives in Canada. It took over operations of the old Ottawa Furniture Bank in 2011.
Article content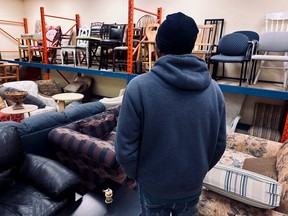 It works with about 50 partners, including the City of Ottawa, who refer clients who are either newly arrived in the city or who have been homeless.
The furniture bank operates with about 20 full- and part-time staff, and an army of volunteers.
Volunteering is how Femi, a refugee from Nigeria, started at the furniture bank. Femi (who doesn't want his last name used because he fears for his safety and the safety of family members he left behind) arrived in Ottawa last summer and after a short stay with a host family, found himself homeless and living in a downtown mission.
It was a scary and uncomfortable life for the 39-year-old accountant until he found accommodation at the Matthew House reception centre. It was his first proper sleep in a month.
Article content
"First time I landed at the refugee centre was a moment I'll never forget," Femi said. "It was the most happiest moment of my life to be among that community."
He had no work permit, so Femi asked where he could volunteer and was directed to the furniture bank.
"I can't sit back. I love to work," he said.
Femi started on Sept. 1 and quickly impressed. His work permit arrived Dec. 5 and he was hired on staff the next day. Within a month, he was a supervisor.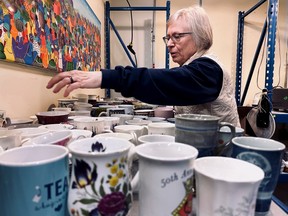 "I love to do my best so I put my best into it," he said.
The surge in refugees from the war in Ukraine helped drive Matthew House's record-setting year in 2022, but the agency also sees a steady flow of arrivals from other parts of the world, Reesor-McDowell said.
"There were 50,000 refugee claimants in Canada last year and thousands of those come to Ottawa. We're definitely serving Ukrainians. In previous times, it's been people from Syria or Afghanistan. There's always been a need for people from countries that have been in the news, but there's also a constant need from newcomers from other groups — people coming out of homelessness or women fleeing violence," he said.
Article content
"The worst-case scenario for a refugee claimant is that they end up in the shelter system. They don't get the support they need. They don't have access to a lawyer to help with their claim. All those things we provide, and we walk with them every step of the way."
Last year, the furniture bank accepted more than 17,000 donations, still useful items that might otherwise have gone straight to the landfill, Reesor-McDowell said. And it's always looking for more.
"Think about what you use every day, that's what we need," he said. "A bed to sleep in. A comfortable place to sit."
The donations don't have to be pristine, but should still have some life in them.
"It should be something that you'd give to a friend and wouldn't feel bad about," he said.
To find out more about Matthew House or to arrange for a donation, visit its website at matthewhouseottawa.org or call 1-888-432-8449.
Deachman: Ottawa's 'Snow Moles' ferret out winter hazards

Ottawa's 'Indiana Jones of smoking cessation' is stepping back, but not away
link