A gallery owner's elegant French-influenced 1850s home | Entertainment/Life
It seems apropos that the home of a well-heeled gallery owner named Martine Chaisson feels like it belongs in the heart of Paris. The building, one of a series of townhouses that line the block of Camp Street across from St. Patrick's Church, was built in the 1850s for an Episcopal church on Lafayette Square.
Its Warehouse District location is part of what was once known as the American Sector — properties developed upriver from the French Quarter during the antebellum period, when Anglo-Americans flooded the city. But gleaming marble floors, a winding staircase, French doors, iron balconies and an exquisitely curated array of art and furnishings call to mind the unmatched interiors of Paris.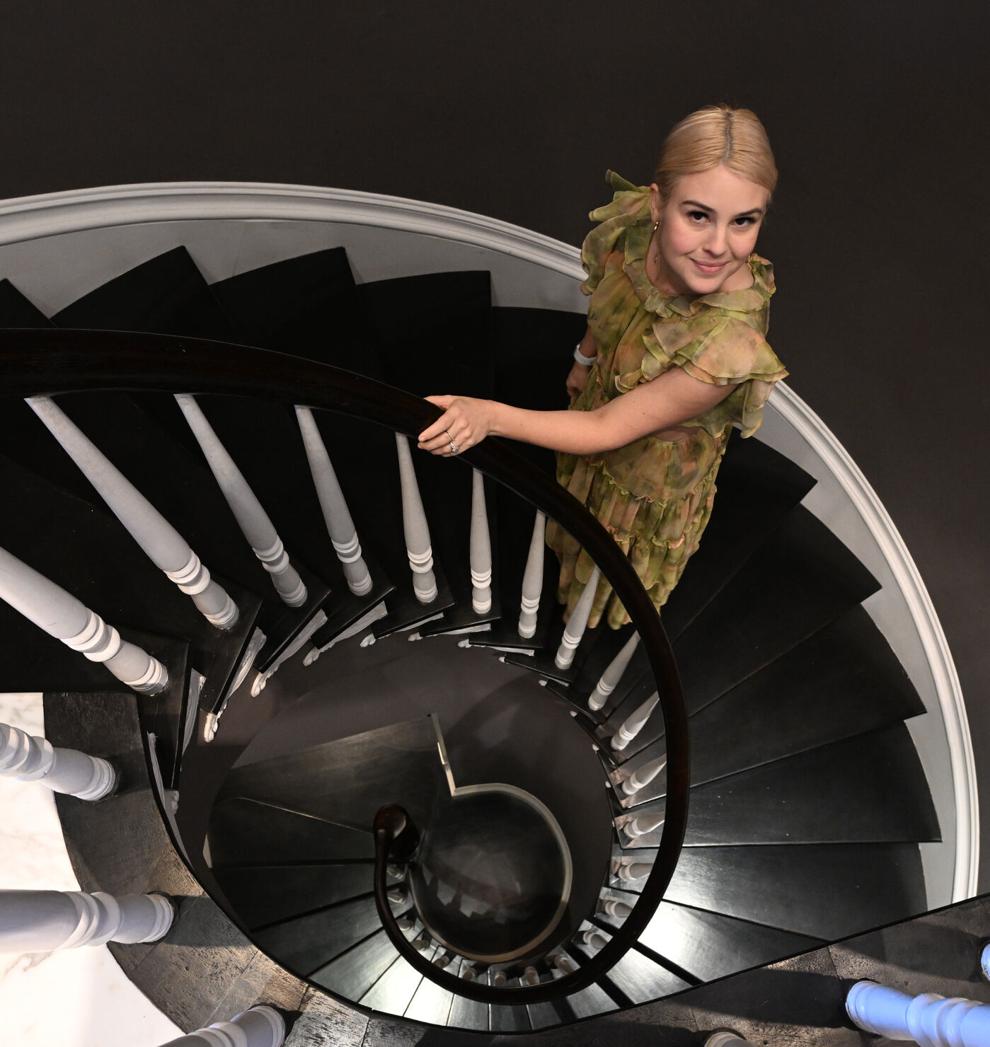 The residence where Chaisson, her husband, Juan Linares, and their two children (Jake, 8, and Lorelei, 6) live has been more than a decade in the making.
While completing her master's in arts administration at the University of New Orleans, Chaisson pivoted from her dream of running an arts organization to the idea of opening a gallery; after graduation, she found the Camp Street building, which had last been used as a sheet metal shop.
It took 2½ years to transform the three-story structure to include the Martine Chaisson Gallery (opened in 2010) and a private parking garage on the ground floor and two apartments — one on the second and third floors and a smaller one at the back of the second floor.
Chaisson's parents originally lived in the larger space, which includes a huge ballroom once used for church dances and meetings. The room still features its original-but-refurbished coved ceiling, as well as two circa 1850s fireplaces from a house of the same period. Ornate moldings were added during the renovations.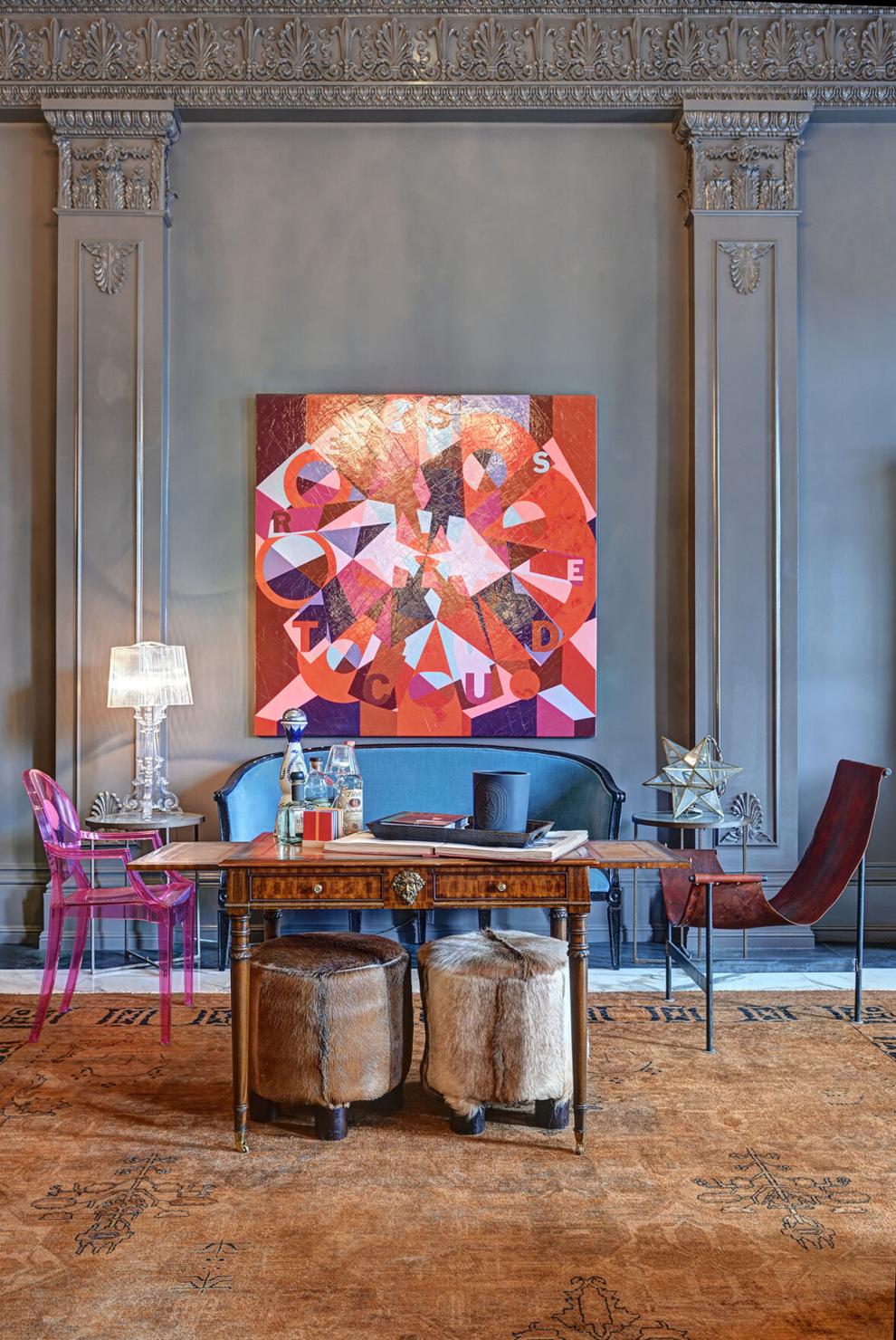 Chaisson and Linaris resided in the smaller apartment as newlyweds. Today, they rent out their former abode and have taken over the primary space, while Chaisson's parents keep a pied-a-terre nearby.
The transformation
The interiors were done with the help of Atlanta-based interior designer John Fernandez, who also decorated Chaisson's parents' Destrehan house, where Chaisson was raised.
Today, armed with skill that is innate, influenced by the art world, and trained as a client of Fernandez, Chaisson has learned to add to the glamorous apartment on her own, with a discerning eye and a willingness to wait until she finds the right thing.
Recent acquisitions include a breakfront from Dop Antiques, an 18-foot-wide rug that anchors a seating area in the ballroom-turned-multipurpose-living zone, and a set of striking 1970s dining chairs found on 1st Dibs (www.1stdibs.com).
The art in the family's home, most of which is for sale, changes often. As pieces by her artists sell, she replaces them with new ones.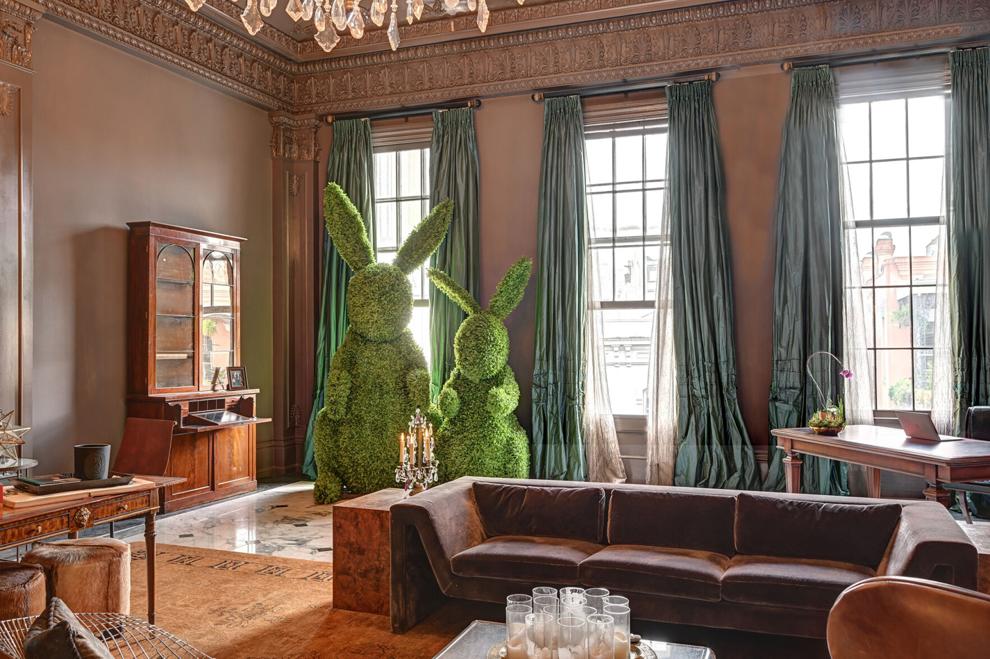 The vibe
On a blustery January morning, Chaisson opened the doors of the gallery, where an exhibition of caftans, headdresses and nudes by designer and artist Ellen Macomber is on view until Mardi Gras.
The house, like the gallery, is thoughtfully curated, and even the children enjoy the refinement of their home environment. Each has a work proudly displayed in the living room, which serves as a sort of secondary gallery, and they are regularly exposed to art events featuring well-known artists represented by Chaisson.
Several times a year, Brooklyn-based artist Adrien Broom transforms the ballroom with fantastical sets for individually commissioned photo shoots. Several larger-than-life rabbit topiaries from the projects remain near the windows.
"My kids are having an interesting life living here," Chaisson said.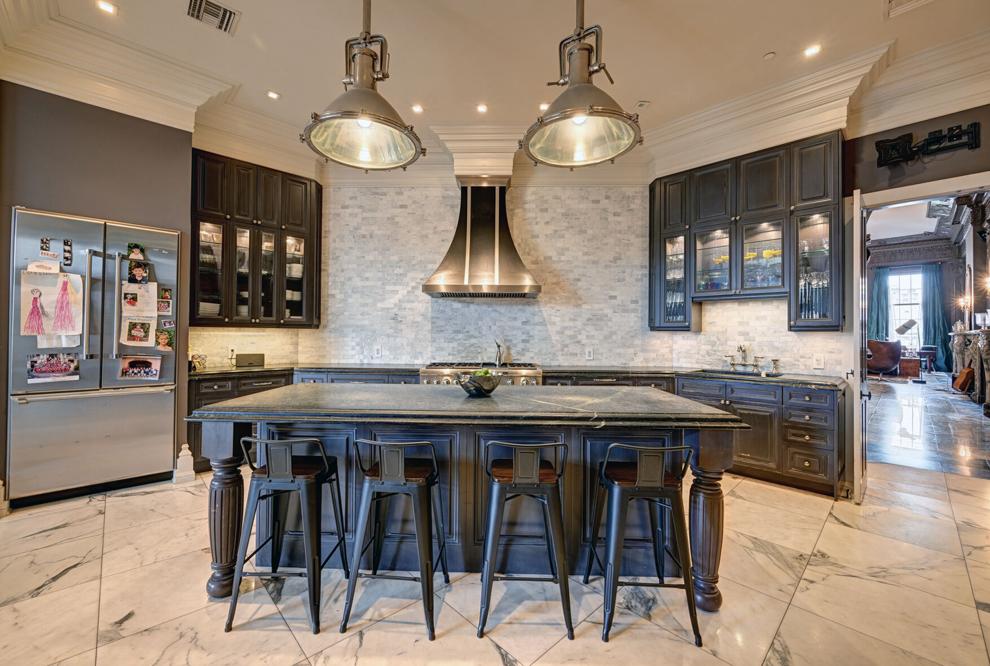 The remodel
From the outset, Fernandez and the homeowners drew on elements of the existing architecture such as original pocket doors when remodeling. The height of the ceilings was well-suited to heavier crown and case moldings, weighty doors with classical acanthus leaf moldings, and large-scale chandeliers and lighting fixtures, all of which have added to the historic feel of the building.
"We made it more French in style," Chaisson said of the elongated living room.
The ballroom, originally 75 feet long, was stripped to its bones and trimmed of 25 feet in order to make room for a kitchen.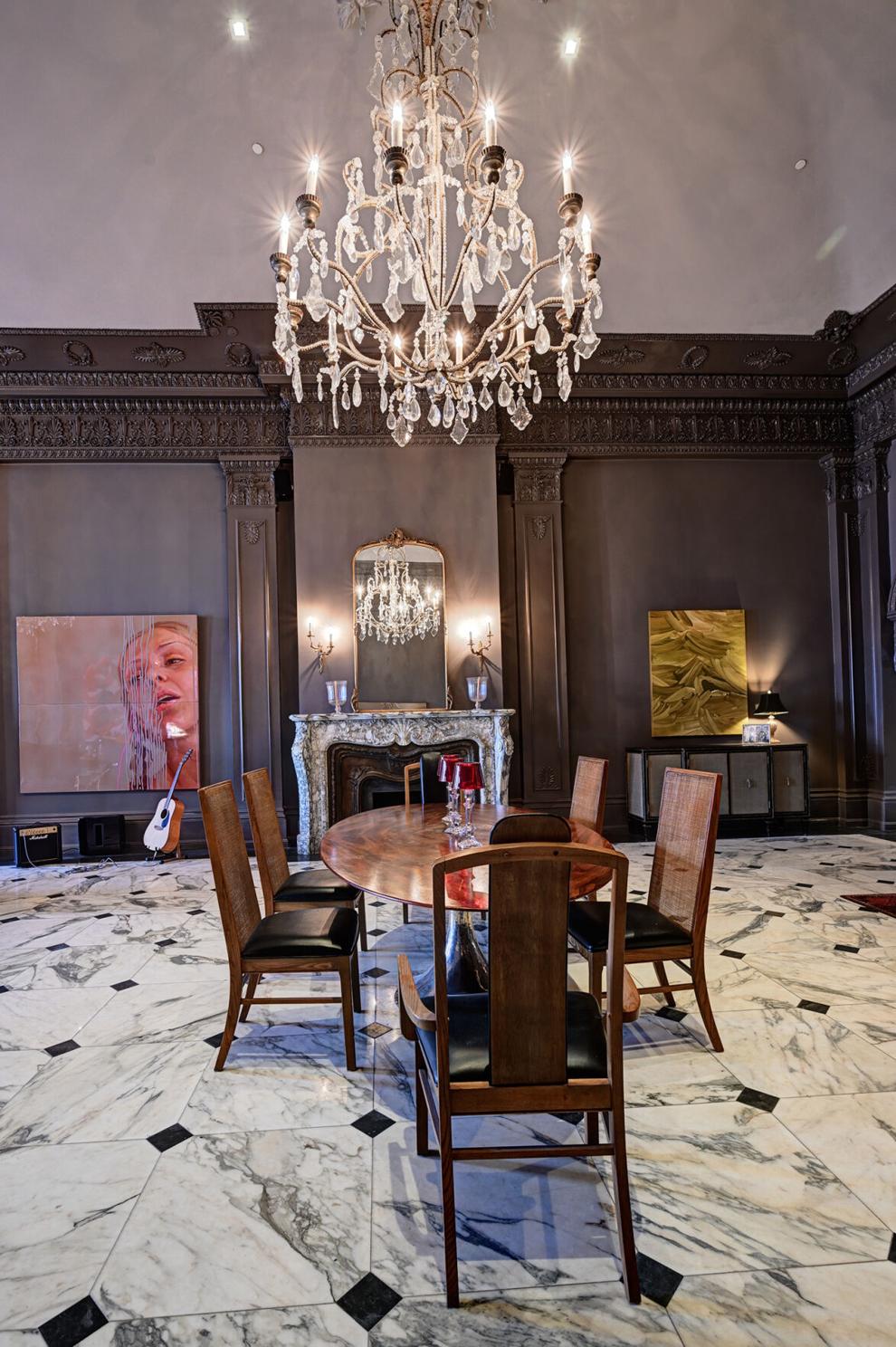 Walls and moldings are painted a deep shade of mushroom. The four areas of function are divided by furnishings: a work area, a seating arrangement, a transitional music section with Linares' guitars and piano, and a formal dining area/game table/library nook nearest the kitchen, which in turn opens on to a family room with views of Church Street and St. Charles Avenue.
Case moldings and crown moldings become simpler as the dramatic living room transitions to the kitchen and the kitchen to the family room.
The powder room and master bath are both enveloped in black, Chaisson's favorite color.
"I find it relaxing," she said.
In true French fashion, the apartment's collection of furnishings ranges from a huge French trumeau propped against the master bedroom wall, to a Z-shaped, striped chair purchased at a charity auction.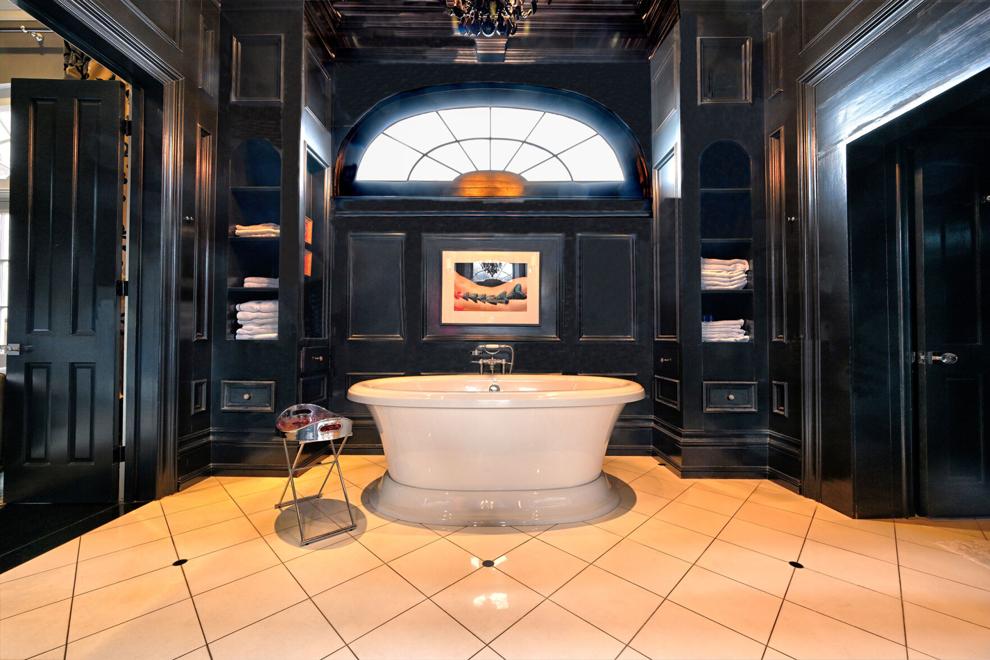 The art covers a broad spectrum from a 1990s French impressionist-style seaside scene, which hung in Chaisson's childhood bedroom and now hangs in Lorelei's French-boudoir-inspired bedroom, to a large abstract canvas by Mallory Page, whom Chaisson represents, in the family room. The majority of the art is from Chaisson's stable of artists, but she also buys from other galleries and on the couple's travels.
"My furnishings are mostly about how it makes me feel," Chaisson said. "I think that's how I dress as well. It's all mood based. My taste has been honed by working with artists. For my personal space, that's been very freeing because I don't feel like I have to have a traditional way of decorating or living in my home."
Ça c'est bon.
Carnival connection
Mardi Gras holds special significance for Martine Chaisson and Juan Linares. For starters, the couple met thanks to the Krewe of Bacchus ball. Chaisson was invited to meet at a friend's apartment before the event, and the first person she encountered there was Linares.
They married seven years later on her birthday, which falls during Mardi Gras. After the French Quarter ceremony, friends and family joined them for a Mardi Gras pub crawl.
Today, their home overlooks the parade route and the annual Carnival pageantry that passes by. "Even if I'm tired and want to lay low, I can't pretend that a parade isn't going by because the kids can see it and hear it," she said.
The couple has fine-tuned the way they celebrate the season. They decorate the back balcony seen by parade revelers with float flowers.
This year, the windows of the gallery also signal Mardi Gras with the Macomber colorful feathered and jeweled headdresses.
The Linares krewe also hosts local friends and family for parades, and often puts up out-of-town guests for the festivities. So, Chaisson stocks lots of Carnival foods for the occasion. Gumbo is a staple. King cake, shrimp salad and potato salad are favorite grab-and-go items as well.
Chaisson buys a variety of king cakes, but her favorite is the French galette des rois from Uptown's La Boulangerie. For the adult crowd, she brings home batches of El Jardin, the signature green margarita from Otra Vez on Julia Street.
Linares and Chaisson take turns taking the kids to parades and riding in them — he rides in Tucks and she rides in Iris and is a member of the Merry Antoinettes marching club. Chaisson's parents also fill in. Her father traditionally takes the kids to early-morning Zulu, from which Chaisson's son has amassed an impressive collection of coconuts.

link