A local's guide to Bucharest: a pizza of a city with something to see in every sector | Bucharest holidays
Food
Traditional Romanian food is dishes like sarmale (cabbage or vine leaves stuffed with meat, rice and vegetables), polenta, ciorbă (sour soup) and Transylvanian goulash, which simmers for eight hours in a wood-fired oven. Two restaurants in the historic centre are good for these: Lacrimi și Sfinti and Hanu' lui Manuc. For street food, there's a lot of saormă (shawarma) thanks to the Turkish population, and for something more contemporary I enjoy the fresh pasta at 18Lounge. They also do papanași, one of the greatest Romanian desserts: a doughnut filled with sweet fresh cheese (similar to ricotta) and topped with sour cream and jam. At the Therme spa, the Mango Tree cafe serves plant-based mains and Thai food, but it's also known for colourful vegan desserts such as mango mess, made with meringue, mango, kiwi and papaya.
Inspiration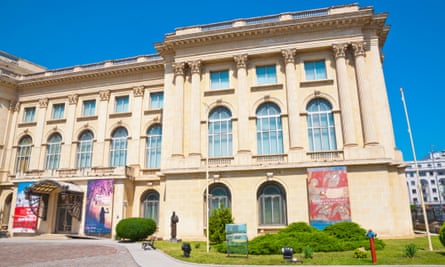 A classic Bucharest gallery is the National Art Museum of Romania in Revolution Square, and I find the vast Carturesti Carousel bookshop, housed in an early 20th century former bank, a relaxing place to visit. But the place that inspires me most is the National Museum of the Romanian Peasant. It's the country's biggest collection of peasant artefacts and tells us why Romania is such a mix of cultures, from the Romans to the Turks and the Austro-Hungarian empire. It shows how our houses differ from the north to the south, while the thousands of objects on display include pottery, furniture, ironware, and tapestry.
Neighbourhood
Like a pizza, Bucharest is divided into six sectors. I grew up in Pantelimon, a working-class area in Sector 2 that's home to many nationalities. But the most beautiful neighbourhood is the north of Bucharest, Sector 1, which includes the wealthy Primăverii district: I take visitors there just to show them the varied architecture, old and new. We then stop at Cișmigiu Gardens for a coffee near the lake, which is over a kilometre long, before a stroll to see the Arcul de Triumf, modelled on the one in Paris. And from Cișmigiu it's an easy walk to the old centre.
Green space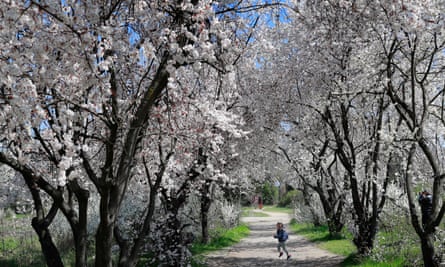 Every sector has its green spaces, but my favourite is Parcul Alexandru Ioan Cuza, known as Titan Park, in Sector 3. It's one of the biggest in Bucharest, with a pretty wooden church and a lake, which I regularly run around. It's among a lot of towerblocks, so the residents can benefit from fresh air and quiet corners. Afterwards, Trattoria Monza near the park does Italian food at really affordable prices.
Nightlife
A Romanian night out means moving from one pub or bar to the next: it's like a journey, we never stay in just one place. There's loud music and everywhere is open late, until two or four in the morning. For cocktails try Freddo or Interbelic, the best clubs are BoA and Loft, and Control is a great live music venue. My tip is huge brewery bar Beraria H, where you can sip a locally brewed pint: it's in an old warehouse, with live bands and sharing platters piled with sausages, meats and vegetables.
Stay
The Old Town Boutique (from €80, room only) is comfy, well priced and well placed for shopping. Autograph by Marriott has just reopened in the art deco Marmorosch building; I like to go there for dinner or a massage, though rooms are around €150. Vienna House is near Therme and the airport, with doubles from €71, room only.
Cosmin Cîrîc is wellness manager at Therme Bucharest, a thermal spa with mineral water pools, saunas, water slides and tropical parks
link