New York City's Winter Show returned to its longtime home at the Park Avenue armory for its 69th iteration, with some of the world's premier dealers and galleries exhibiting a myriad of rare objects: fine furniture, dazzling jewelry (both big and small!), imperial art, works on paper, large tapestries, and more.
Aside from the basic delight of being around beautiful objects, the fair is beneficial to collectors because it is simply a one-stop shop for decorative items. For example, the Thomsen Gallery from New York exhibited "The Nest" by Möri Shükö (1929), a two-panel folding screen depicting four young egrets in a mature pine tree. For those in the mood for a decorative mirror, perhaps a rare Venetian one with blue glass used to decorate its border from Clinton Howell Antiques will do (all you will need is $65,000). Lighting should never be looked over in a home or space. Luckily for those perusing the booths, a series of Tiffany lamps in a kaleidoscope of colors were readily available. As was a set of Salvador Dalí cutlery warped into vegetative shapes for those looking for a quirkier addition to their collection.
But, the nine day event is not a solely commercial affair. In fact, The Winter Show was conceived in the mid-1950s with philanthropy in mind. Since its beginning, proceeds from ticket sales (today, general admission is $40 for adults and the collector's pass is $250) benefit the East Side House Settlement: a community-based organization serving the Bronx and Northern Manhattan that focuses on using education and technology for economic opportunity.
In addition to the standard ticketing during the day, the fair also consists of two special ticketed evenings. The first is an opening night where longtime attendees get to preview the booths before most others. The second is the Young Collectors Night, where new design and art enthusiasts are welcomed in for an evening fête.
"It's always important to give back when you can," Elise Taylor, one of the evening's co-chairs tells Town & Country. "The Winter Show's Young Collector Night, which raises funds for the East Side House, is just a fun way to do so. You grab a martini at the bar, some hors d'oeuvres, and then wander around a maze full of centuries-old treasures for the next few hours." Taylor speaks from experience. She tried on a 19th-century tiara and stumbled upon a medieval suit of armor during the evening.
This year, Emily Adams Bode Aujla, the fashion designer behind the brand Bode, & Aaron Singh Aujla, the furniture designer behind Green River Project, were the honorees of the Young Collector's night. " We honored them because both Bode and Green River Project bring an incredible amount of rigor, scholarship, and innovation to the realm of aesthetics driven by history," Michael Diaz-Griffith, co-chair of the Young Collector's Night, tells T&C. "Everything they do refreshes the way we look at some aspect of history and antiques or historic preservation and they put a lot of work in that with integrity."
This year's show runs through January 29. For tickets, and more information about the exhibitors, future events, and other programs, visit wintershow.org.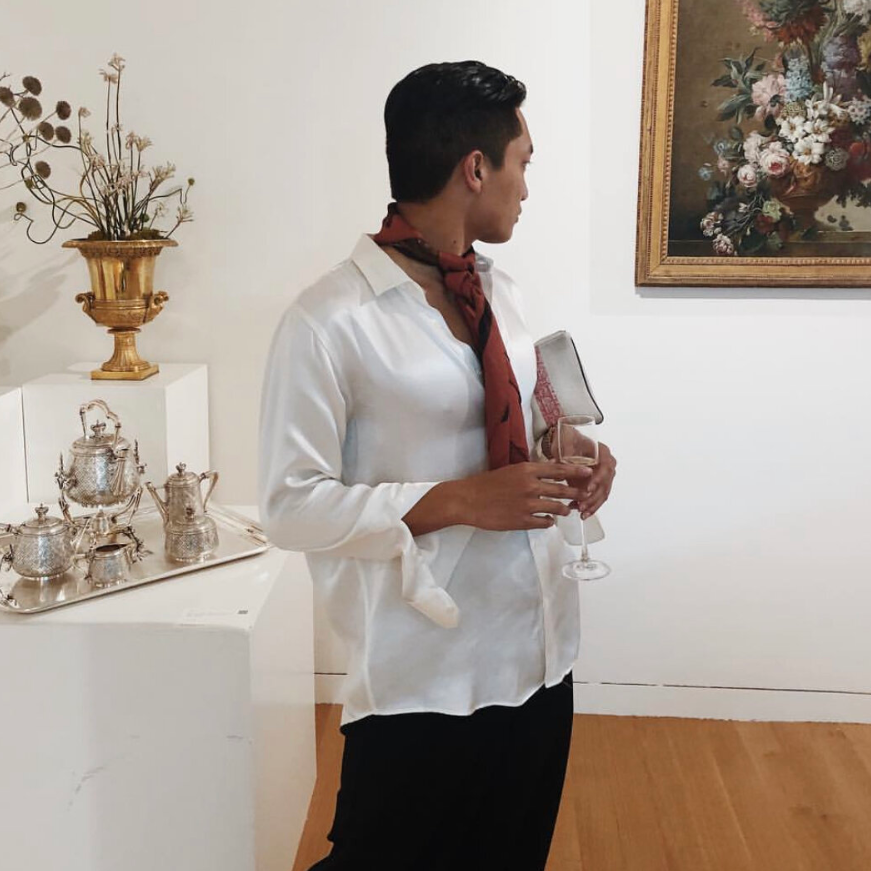 Style News Editor
Style News Editor at Town and Country covering society, style, art, and design.  
link