By David Lezcano
If you were to take a trip to your grandparents' house, chances are you might find some interesting looking furniture in the living room or trinkets on the mantle. These old relics provide a small window into the style, art and atmosphere of its decade and probably carry memorable moments for their owners. At the time of purchase, they may have been considered new and modern, but for us in 2021, they are classified as antiques, and for some, searching for them is a passion.
What is Antiquing?
Have you ever come across a store with a different look to it than those around it? Did you wander inside and come across a world filled with items that you've never seen anywhere else? Browsing the shelves and the store, you may have even bought a unique piece of furniture, an interesting looking bauble or a vintage
article of clothing. This search for timeless treasures to add to your collection is the art of antiquing.
As time passes, objects become older, worn and harder to find in general. These kinds of characteristics can often add to its value and beauty. Sometimes, these treasures end up being sold. Auctions, estate sales and garage sales are just a few places they can be found. They may also make their way to antique shops,
sitting patiently on a shelf until one day, someone comes along, realizes the item's value and takes it home. And that is the beauty of Antiquing.
Keep Your Eyes Open for History
There are many people who find the search for antiques thrilling and exciting. Some even take it to the level of a hobby and collect these vintage objects. "We sell old furniture and new gift items, so we have something for everyone," said Melissa Harris of Totally Vintage Designs. If you are looking for a special gift,
antiques are a great option.
"Our most popular items are coin collections, vinyl records, and retro clothing," said Darinka Charette, Manager of Iron Horse Antiques.
Next time you want to purchase a truly unique item to add some flair to your home or maybe even share as a gift, take a trip around town and visit antique shops that you come across. You never know what you may find!
Local Shops to Check Out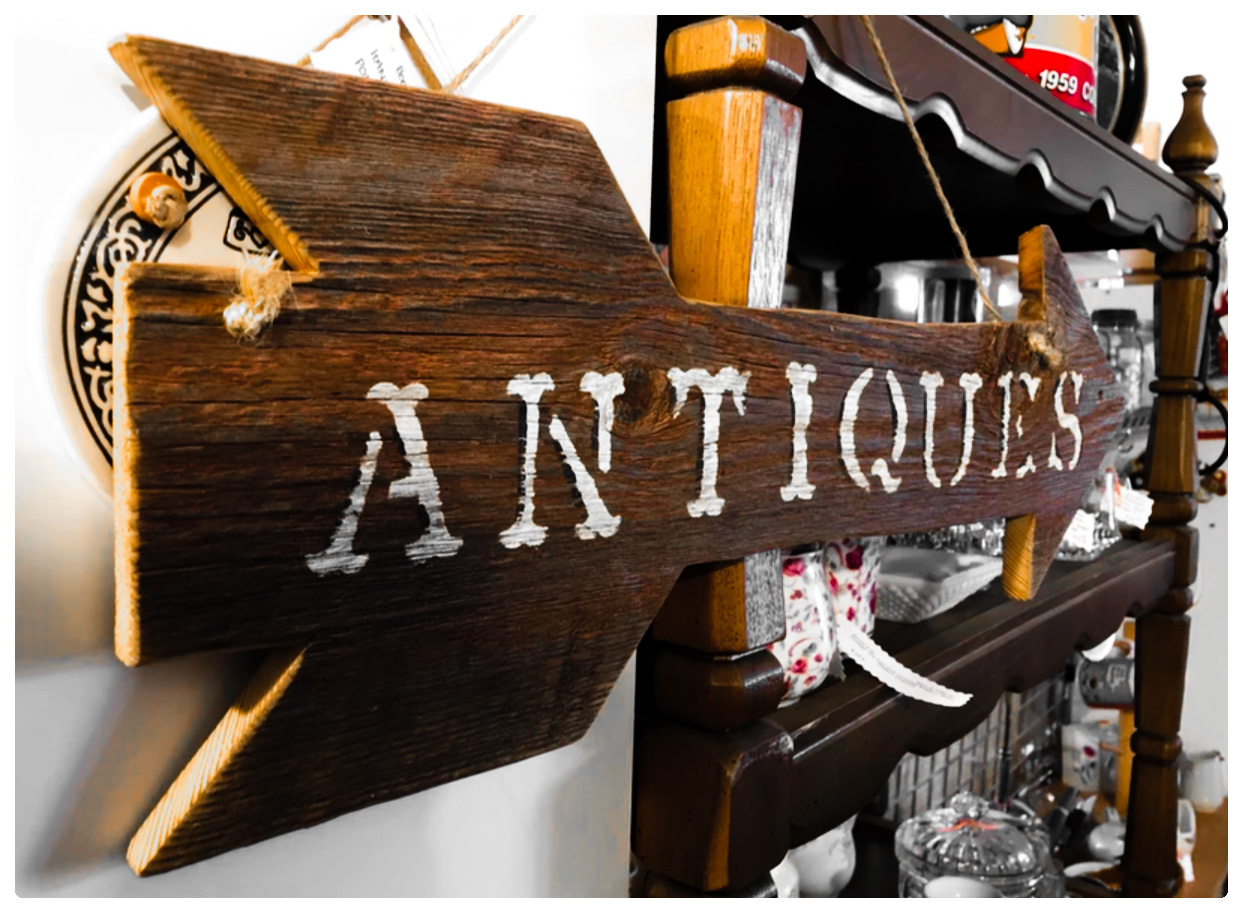 Prince William is a historically rich area with many treasure troves to explore if you are on the hunt for antiques. Antique shops have become quite popular as of late, but here are a few to get you started.
Iron Horse Antiques
Iron Horse Antiques, located at 9200 Prescott Avenue in Manassas, has been around for 25 years. "Iron Horse Antiques has been open since 1996 and was founded by Gary Hale," says Charette. "After he got the building, he needed to find stock for the antique shop, so one time per week Gary would get up very early in the mornings and head north to auctions. He would bring back the items, clean them up, and put them in the shop."
After a while, however, stock would become harder to find. That's when they changed gears a bit. After Jimmy Rice of J.E. Rice Company sold some of their antiques off to Iron Horse, Gary hired some employees to help renovate and restock the store.
"With Glennie Smith's help, Gary was able to renovate the upstairs of the building and started getting pickers and dealers to purchase the inventory, set it up, and then the store would do the selling," says Charette. "The shop has continued operating the same way over the years. Iron Horse Antiques is a figurehead for antiques and a large draw to Manassas, Virginia, while sitting on the outskirts of Old Town Manassas leading into the historic district. Iron Horse stays well stocked so that whatever customer
walks into our store, they will be able to find a treasure of their liking."
Totally Vintage Designs
Harris from Totally Vintage Designs, located on Center Street in Manassas, recounts their origins as well. "We have been in business since 2012. We started in a small building in Haymarket next to Details for the Home and then after two years, we moved to Old Town Manassas, which was an incredible business decision. This allowed us to grow. We started in a small store on Battle Street, at about 1,000 square feet and now we are on Center Street with a 2,500 square foot store," she said. You never know what you may find when you enter an antique shop. "We had a piece of farm equipment that you would put on an ox or mule to carry wood, it was definitely the most unique," said Harris. When asked what some of their other unique items in the shop were, she said, "My favorite item is an old cabinet that we use as a display. It is actually our front counter. It has all of the original shelving and glass. It came out of an old country store."
More to Explore
If you are in Bristow, be sure to check out The White Elephant Antiques at 10726 Bristow Rd. They sell a variety of antique furniture, including grandfather clocks, cabinets, tables, chairs and more. At the time of writing this article, they are open Saturdays and Sundays only.
Glory Be, found at 305 Mill Street in Occoquan, sells vintage furniture, home decor, Polish pottery, handmade crafts and more.
The Copper Cricket, in Haymarket, is a small consignment shop but sells a variety of antique furniture. Visit them at 15026 Washington Street.
These are just a few of the places around Prince William that sell antiques. Go on an adventure and visit others you come across. You may find some special treasures waiting inside.
David Lezcano is a contributing writer for Prince William Living. He can be reached at [email protected].

link