Aynho Park, a Grade I-listed 73-acre landmark estate on the Oxfordshire and Northamptonshire border, stands among England's most exceptional properties. Now reopened for the first time since its sale to RH, previously Restoration Hardware, in 2020, this historic property has been restored and entirely reimagined as a first-of-its-kind design and hospitality destination. A bold move indeed from an American furniture brand.
RH England at Aynho Park: 'wonder, enchantment, and history'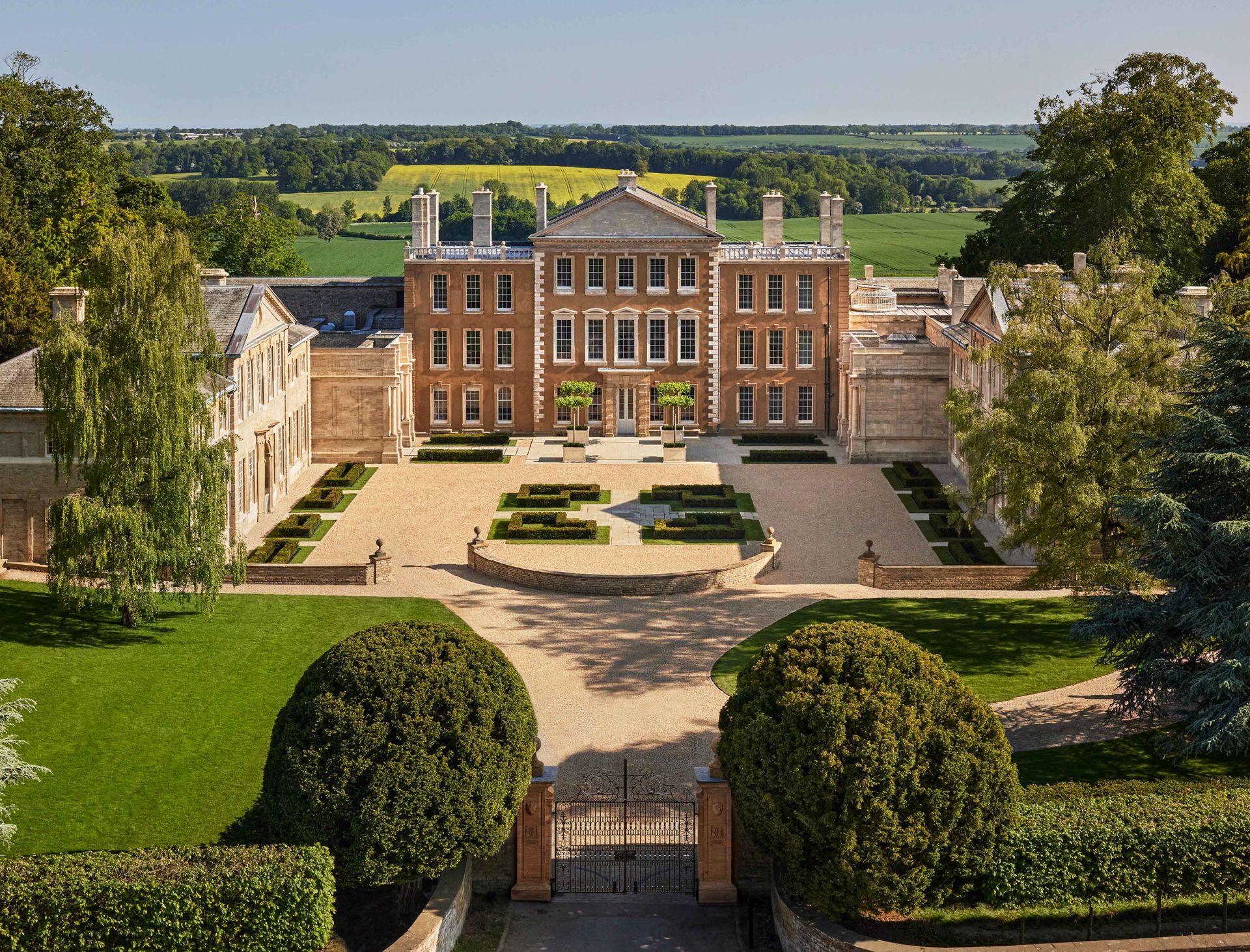 RH is not your average furniture brand, and its CEO Gary Friedman has built his own reputation as a retail visionary, having transformed the company's fortunes during his 20-year tenure. The not-so-secret strategy? Showcasing design within an unexpected architectural framework, positioning RH as a place- and tastemaker for the modern age. 
Much more than being a seller of sofas and suchlike, investing in and restoring historical buildings – notably its vast RH New York gallery in the Meatpacking District – for today's design cognoscenti, has become RH's primary MO. To make its grand debut in Europe, RH England chose Aynho Park for a number of reasons, explains Friedman. 'We were searching for a location that would enable us to introduce ourselves in an inspiring and unforgettable fashion, in a manner that communicated our values and beliefs, and rendered our brand more valuable,' he says. 'At the time, Aynho Park was not for sale, but we met with the owner, James Perkins, and the story unfolded from there.'
Originally built in 1615 and refurbished by Sir John Soane in the early 19th century, the prestigious estate remained in the ownership of the Cartwright family until the mid-20th century, and its architecture and grounds are a testament to their enduring legacy. It recent owner Perkins who began the restoration of the Palladian mansion and its gardens over a 15-year period, transforming it into one of the 21st century's most hedonistic party wonderlands. Famous not least for its eclectic and extraordinary contents, those who knew Aynho Park might well be surprised by its transformation. Gone are the giraffe suspended by balloons in the orangery, the giant glitter balls, and the Dr Who's Tardis. Gone are the taxidermied polar bear, the feather lamps, the sculptures and the secret underground party rooms. But it's not without trace. Alongside the extensive home furnishings collections from RH Interiors, visitors will find a collection of rare art, antiques, and artefacts from around the world. A unicorn still guards the entrance, numerous architectural plasterworks adorn the walls and a 10ft statue of Hercules remains on the grand stairway.
'We do believe you don't get a second chance to make the first impression in this lifetime,' says Friedman. 'And our goal was to find a magical place that resembled anything but a retail store. So far, I think we're off to a good start. And that is what we found here: a place of wonder, enchantment, and history.'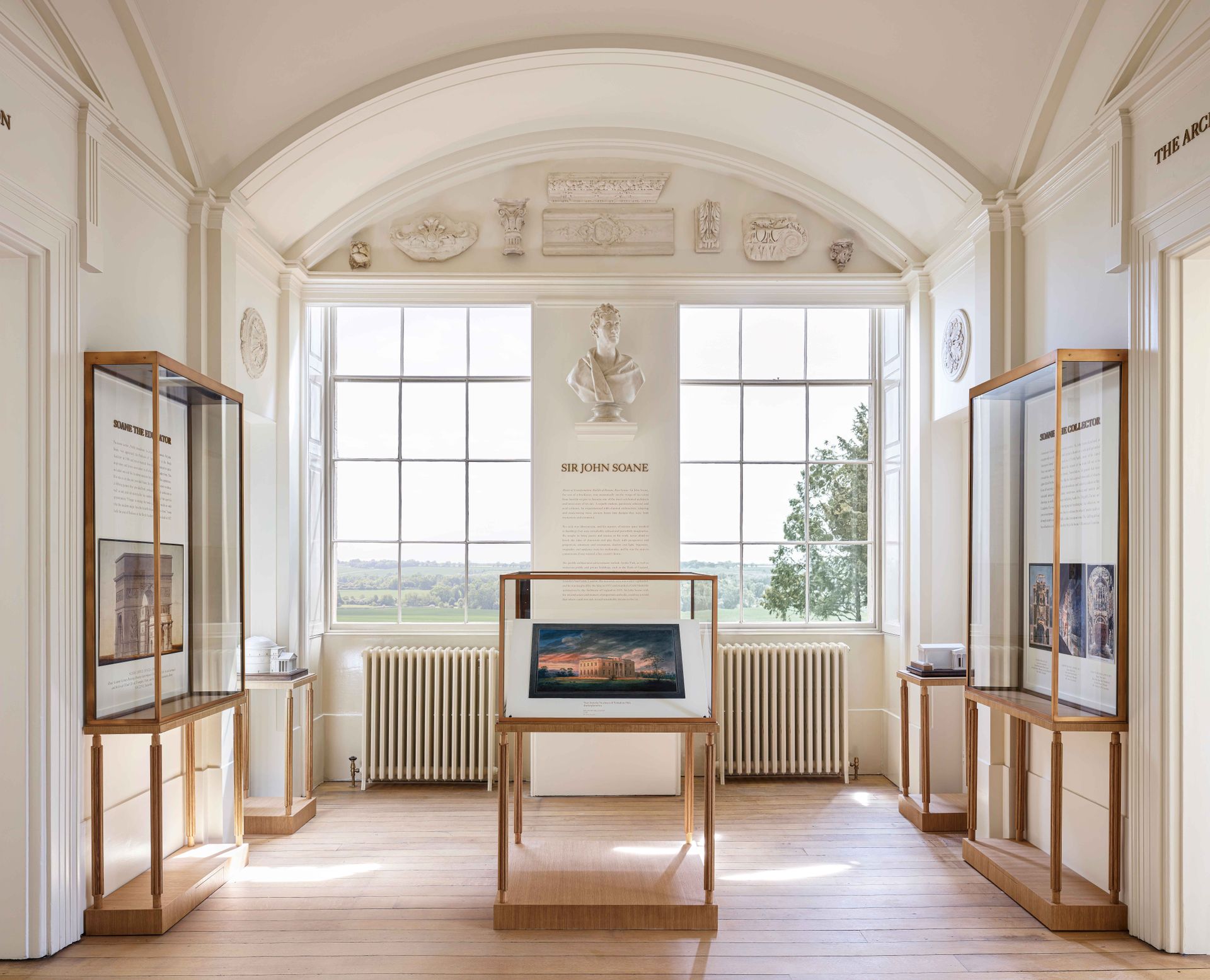 Spanning 55,000 sq ft and featuring more than 60 rooms, Aynho Park consists of a main house and two wings creating a formal forecourt. Set on an elevated plateau with an awe-inspiring view, the grounds were originally designed by the iconic English landscape architect Capability Brown. 
The exterior of the mansion remains true to Soane's alterations, and inside, guests can explore the Architecture & Design Library, with a carefully curated collection of vintage, contemporary, and rare out-of-print books including the first edition of De architectura libri dece (The Ten Books of Architecture) by the Roman architect Vitruvius, apparently a foundation for RH's design ethos. Presiding over the room, an exacting replica of Leonardo Da Vinci's Vitruvian man – based on Vitruvius' description of human anatomy – and busts of the great Renaissance architects Alberti, Scamozzi and Palladio. Spanning the library's soaring ceiling is a crystal lighting installation by Los Angeles-based glass designer and artist Alison Berger, inspired by the open skies that wash over the ground, and Soane's penchant for infusing his grandly scaled spaces with natural light. 
A dedicated Sir John Soane Exhibition showcases the architect's life and works at Aynho and other English country houses, with reproductions of original drawings, architectural models, and artefacts. Across the estate, RH England brings five new restaurants to the Cotswolds. The Orangery (previously home to that floating giraffe) is the signature fine dining restaurant, featuring live-fire cooking overlooked by a second lighting installation by Berger. The Loggia – in what was once the servants' quarters – is now an open-air restaurant and wine bar offering wood-fired pizzas and charcuterie boards. Then there is the Tea Salon – previously the main dining room, the Wine Lounge – in the old French drawing room and The Juicery, in what was once the building's main kitchen, complete with original limestone floors.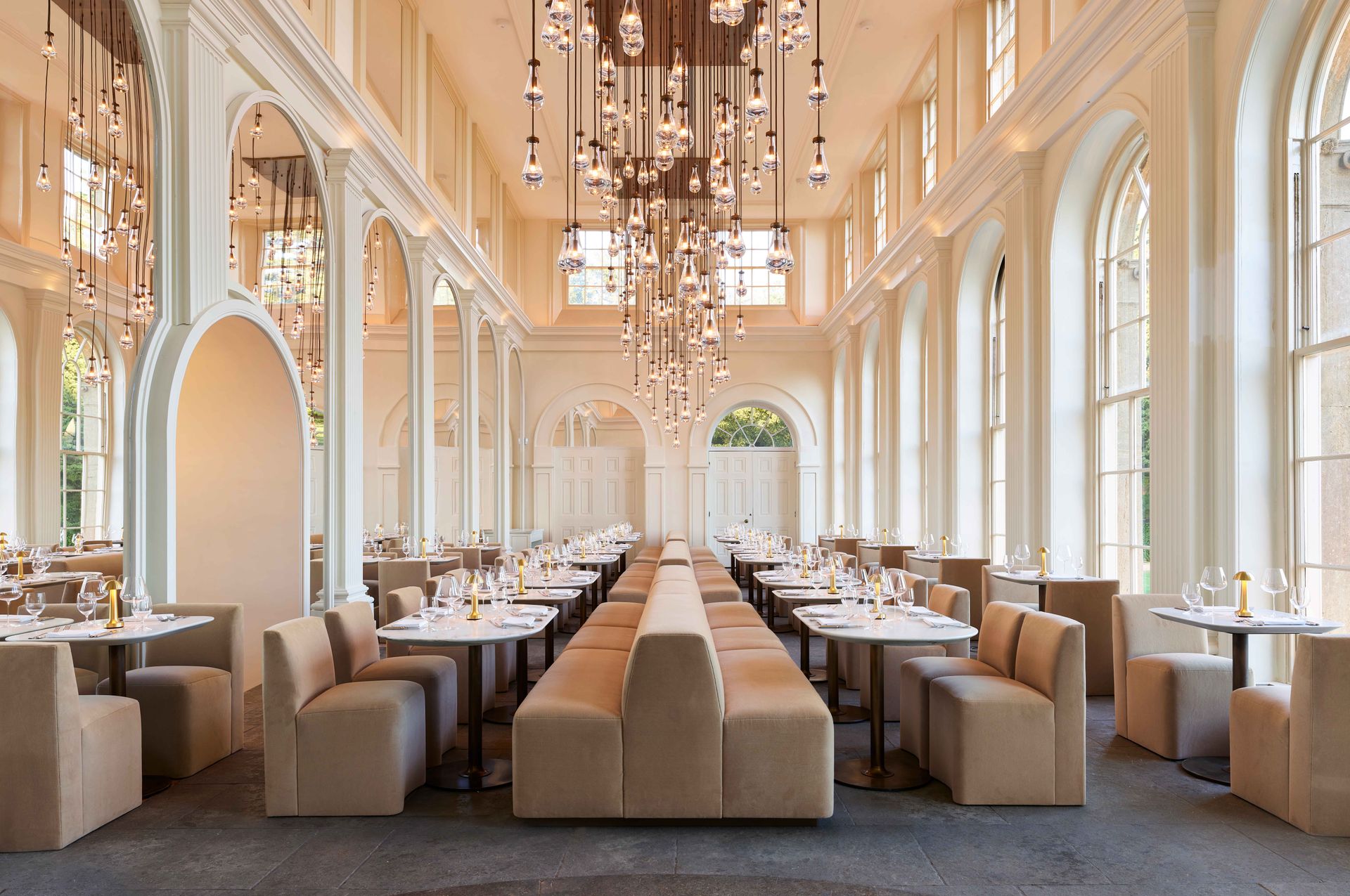 Perkins, who assisted RH in the transformation of Aynho, believes the property is indicative of a new era for Britain's old stately homes, and that Friedman's vision is very much aligned with his own. 'They've worked tirelessly to honour their obligations to the restoration and set up of this stately home and its landscape – it has been a significant investment and amazing to watch,' he says. 
Referring to his own new venture, the rebuild and restoration of Parnham Park in Devon (set to open in 2025), as well as the imminent Oxfordshire opening of private club Estelle Manor, among others, he says: 'This is what the countryside has needed for a long time, bringing modern day conveniences and interest to these amazing historic buildings; RH is pioneering new uses for our rich architectural legacy, giving them a new lease of life. These grand old country houses used to be the epicentre of style and taste, they were social hubs and high society destinations – it was what they were originally designed to be. Somewhere along the line they became tired and unloved, preserved but no longer alive. It's time we began utilising them as they were originally intended.'
Further RH galleries are under construction in London (Mayfair), Paris, Milan, Madrid (two locations), Munich, Düsseldorf, Brussels and Sydney – all set to open over the next three years. As Friedman said in his speech on opening night: 'Our strategy is quite simple, and that is we do what we love, with people that we love, for people that love what we do. What we believe in deeply, is that by chasing our hopes and dreams, we hopefully inspire others to chase theirs, and by fighting fearlessly for what we believe in, we hopefully encourage others to do the same.'

link