By Brian D. White
I've been hearing about The Greenbrier Hotel since my college days at Rollins from a fraternity brother whose grandparents frequented the hotel and have wanted to go ever since.  I received a call from dear friend Sophie DuBrul encouraging us to join her and her family including her husband Brad Cue, brother Jeremy DuBrul and mother – the most lovely Moira DuBrul.  My husband James M.  Kinney & I made a road trip of it and in a singular word…….The Greenbrier was SPECTACULAR!!
 The Greenbrier Hotel – in White Sulpher Springs, West Virginia
We arrived on Friday morning around 9:30 am, checked into our gorgeous room and our Dorothy Draper Weekend began!  Over the past 20 years, Jim & I have perfected the "art of travel" and I love to coordinate flowers for our room with the décor – so for the "Saratoga Rose- yellow", I ordered arrangements of yellow roses and another with white hydrangea, pink roses, and yellow tulips.  I have champagne ready upon arrival, a bowl of my favorite macadamia nuts, and even bring a favorite Rigaud travel candle in its zebra striped container- all neatly fitted into my Louis Vuitton traveling "booze box" which conveniently has room for half bottles of champagne, gin, scotch, run & even some fireball.  I also always have my handy JBL travel speaker so I can have just the right music playing in our room.  Whether its Bobby Short, Lester Lanin, The Eagles or Tiesto –  I like to set a tone and for this weekend……. it was Cole Porter all the way!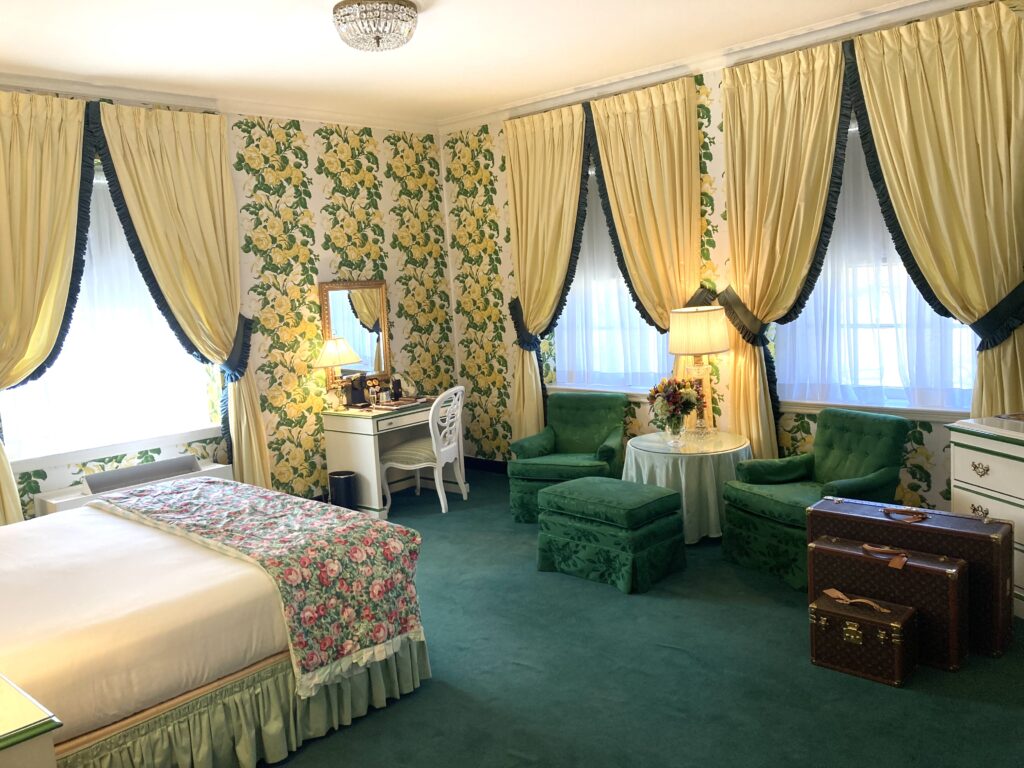 Our room – with Saratoga Rose- Yellow wallpaper
We then started on the Interior History Walk and were given highlights and history of the famed Hotel, Dorothy Draper and Carleton Varney.  We first met Carleton on an Irish Georgian Society trip to Castletown House in Ireland organized by the late Hon. Desmond Guinness and then again a few years later in NY at a Black Tie Gala in The Rainbow Room.  I remember Carleton took us afterwards to the chicest night club that he had just designed named "Ella" and remember entering through these massive black doors with white trim and drinking rose champagne out of saucer glasses and I felt like we were all in a movie!  On the tour, my favorite room was the "Trellis Lobby"– I just loved the gorgeous color of Hampton Meadow Lawn and can just picture having cocktails (or rose champagne in saucer glasses) in black or white tie prior to a glamorous dinner.  (Something I'm already working on!)  One of my other favorite rooms in the hotel was the "Clock Lobby" designed by Draper in the 1940's with the clock added because she always liked a central clock in a hotel to be able to say "meet me under the clock".  The stripes were added by Carleton Varney and I think what makes a designer a true genius- is to be able to know and interpret the "Draper" style so well- that he can build on that and make the design look even more "Draperized" than before. "I have spent over 60 years opening the doors and windows of the American home to color, and I still am"- Carleton Varney.   It's a fine line and Varney – who has been with the company since 1961, bought the company in 1964 and became President of Dorothy Draper & Company, Inc., along with Brinsley Matthews – Exec V.P. and Interior Designer Rudy Saunders– have this down to perfection!  "We definitely stay true to what Mrs. Draper first created here at The Greenbrier as well as Mr. Varney's creative legacy over the decades.  We keep it fresh for guests today and the future, meeting their needs while keeping true to the legacy of the hotel"- Rudy Saunders.
The "Trellis Lobby" – my favorite room at the Hotel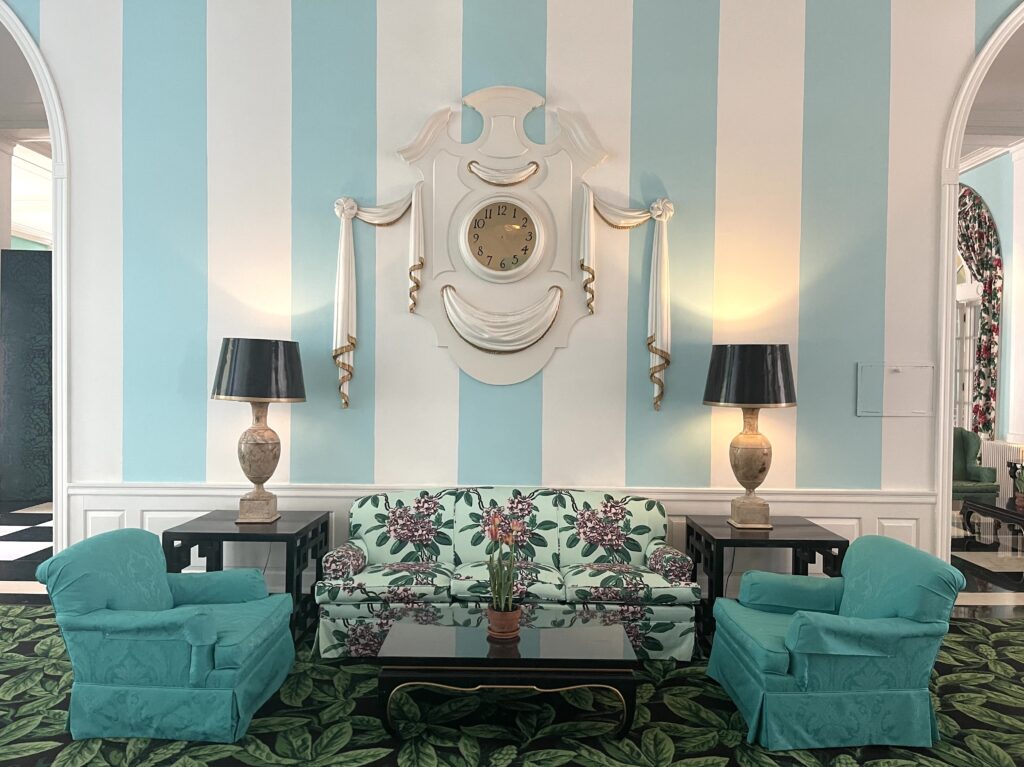 The "Clock Lobby" was designed by Dorothy Draper in the '40s & enhanced by Carleton Varney who added the blue & white stripes.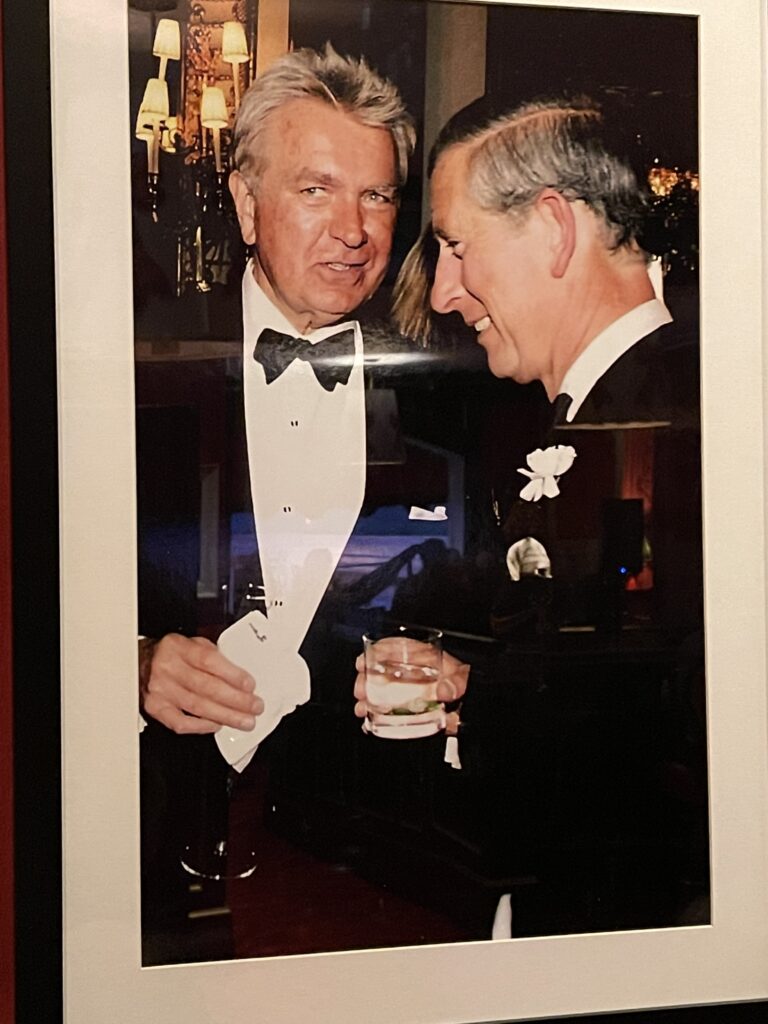 Carleton Varney with Prince Charles at Buckingham Palace in 2005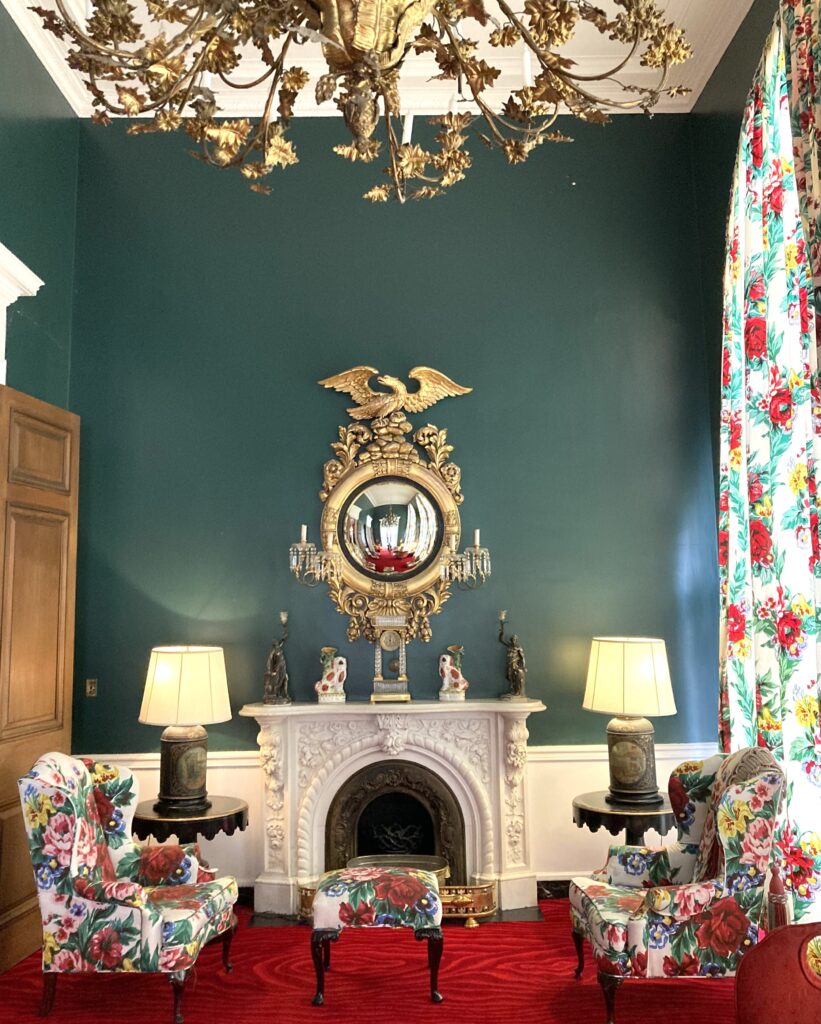 The Victorian Writing Room – with its "Fudge Apron" fabric designed by Dorothy Draper in the 40's to be used in this room – was designed to camouflage all the colors when a southern lady would make fudge.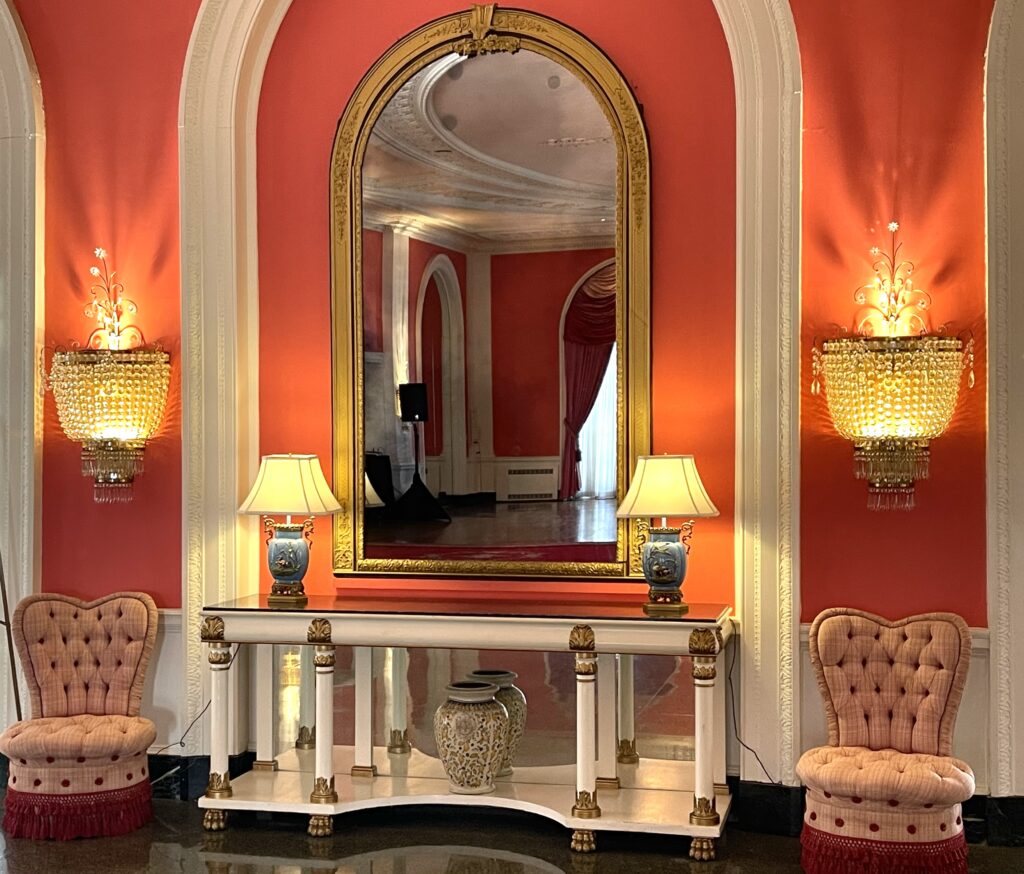 The Cameo Ballroom- color "Cameo Azalea" console designed by Dorothy Draper in 1948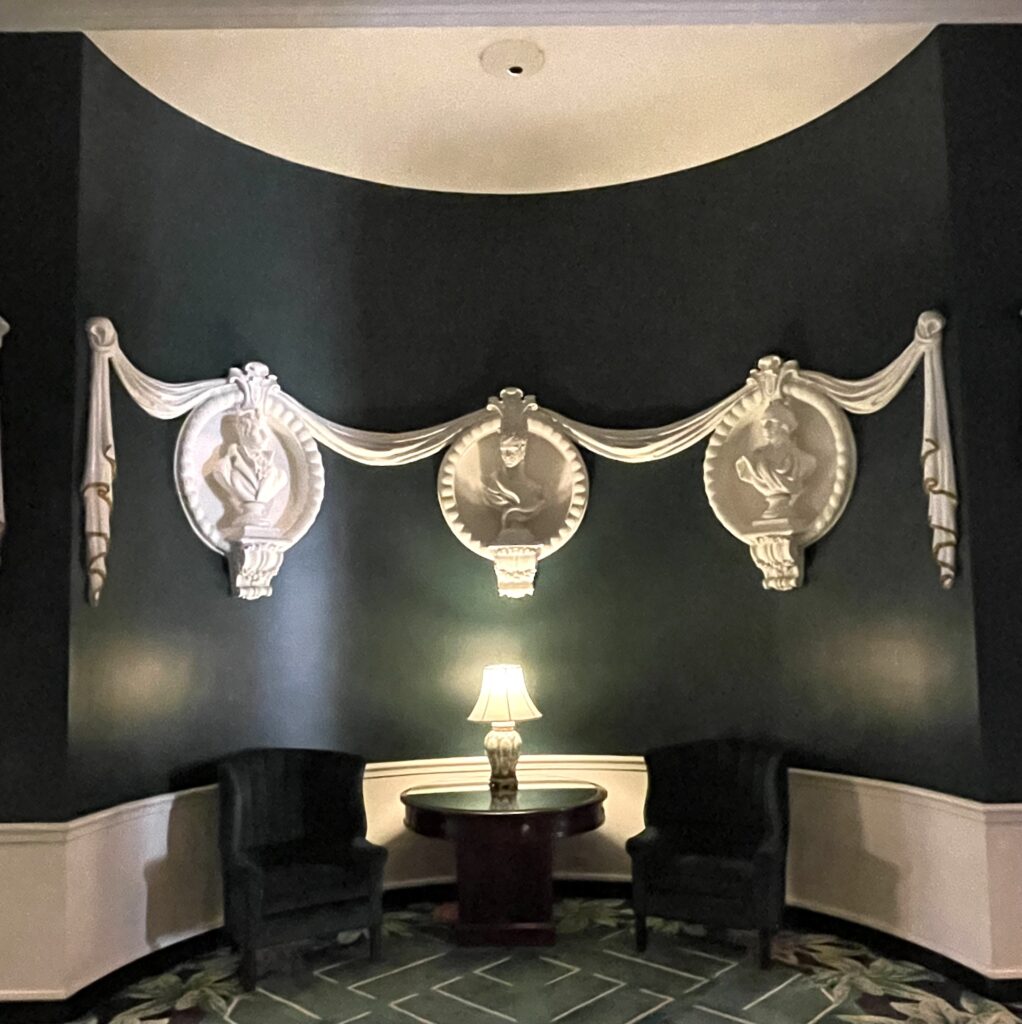 The Celebrity Corridor- believed that these are the first 10 Presidents of the United States
We continued our tour and then had a delightful lunch of their famous fried green tomato sandwich and deviled eggs with bloody marys in Draper's Café – followed by a tour of the upholstery shop led by Rudy Saunders and fulltime Greenbrier Interior Project Manager Merriweather Franklin.  You know there is serious attention to detail & impeccable maintenance when a hotel has a full time upholstery shop on the grounds employing 5 fulltime upholsters and 4 fulltime seamstresses who are continually refreshing and recovering furniture just for the hotel!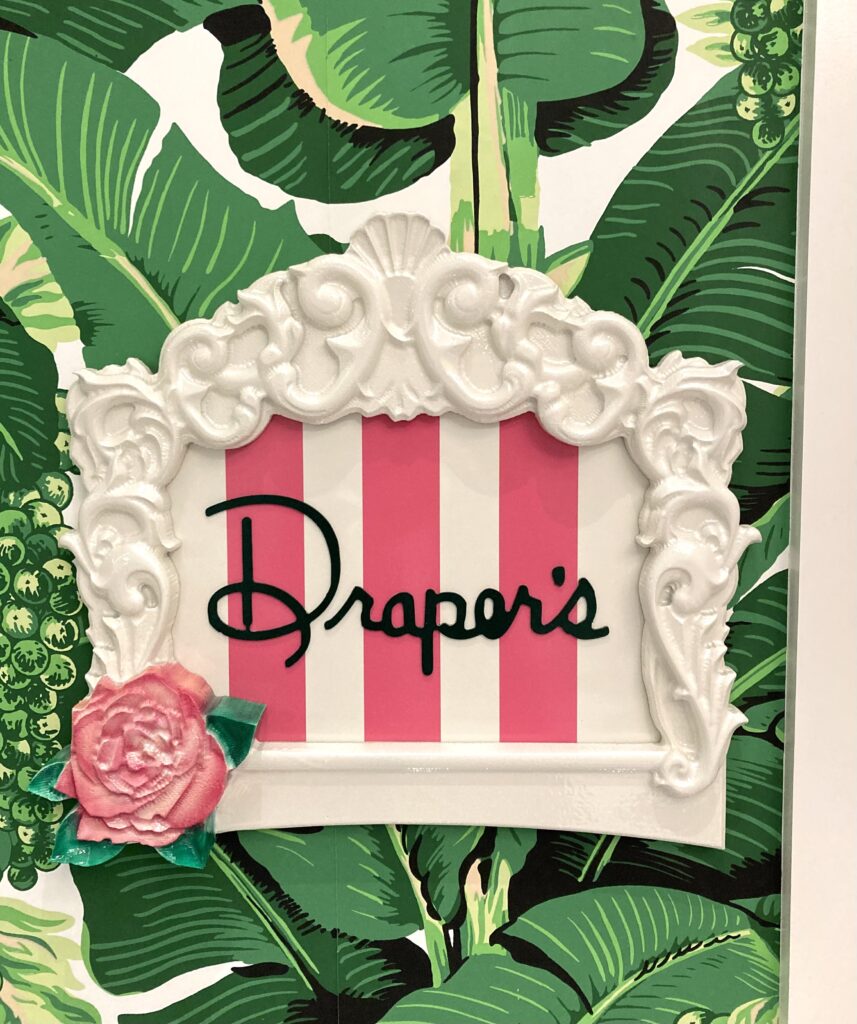 Sign to "Draper's Cafe" using "Brazilliance" wallpaper behind the pink & white sign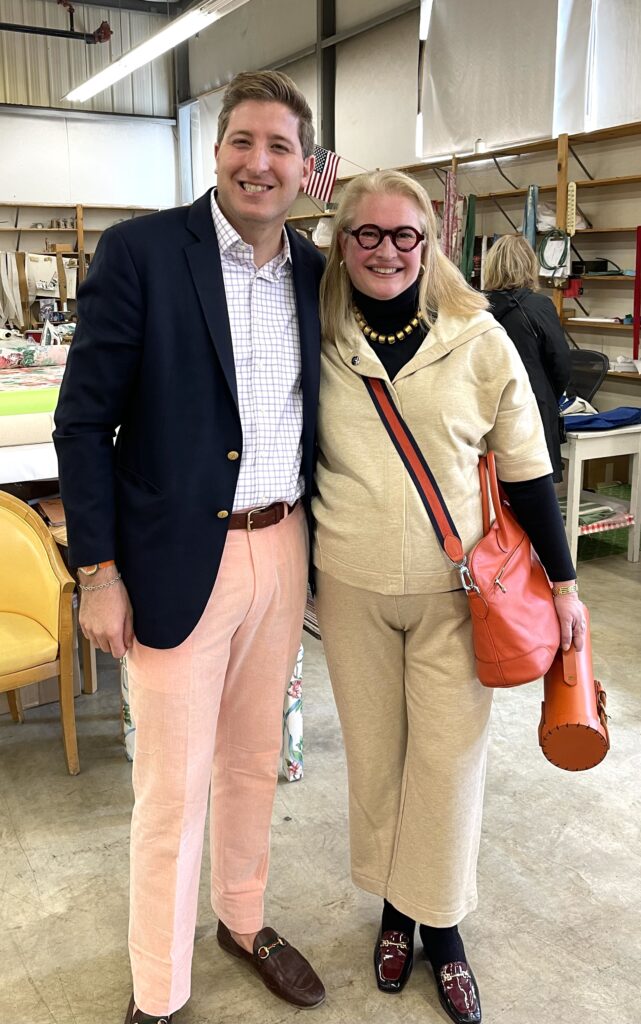 (L to R) Rudy Saunders (Interior Designer with Dorothy Draper & Company, Inc.) with Sophie DuBrul- at the upholstery shop tour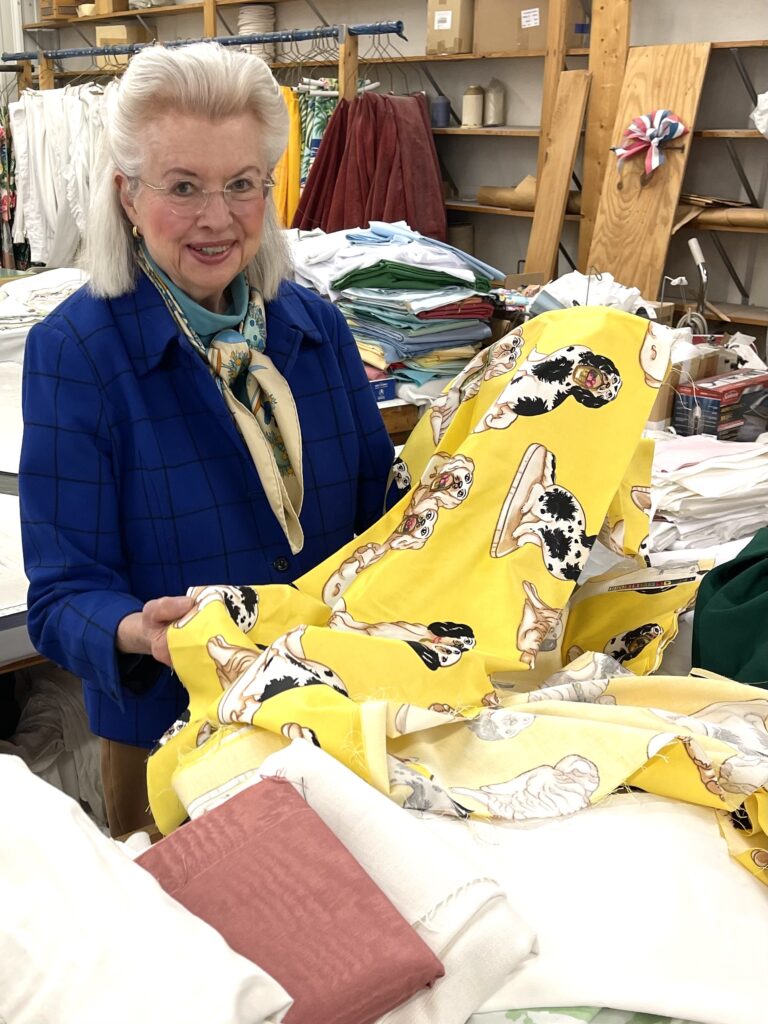 Moira DuBrul admiring a favorite fabric – at the upholstery shop tour
After our tour we were then treated to a lovely tea for guests in for the "Dorothy Draper Weekend" (usually the first weekend in March every year- and direct United Flights to Lewisburg, WV, 9 hour road trip or 15 hours by overnight train!) where Julie & Steve Lazarus from Cincinnati – brought in their amazing collection of various menu's & artwork also designed by Dorothy Draper- for the guests to view.  While Jim, Sophie, Moira & I were all enjoying the tours & tea Sophie's husband Brad along with her brother Jeremy had a great time out shooting sporting clays!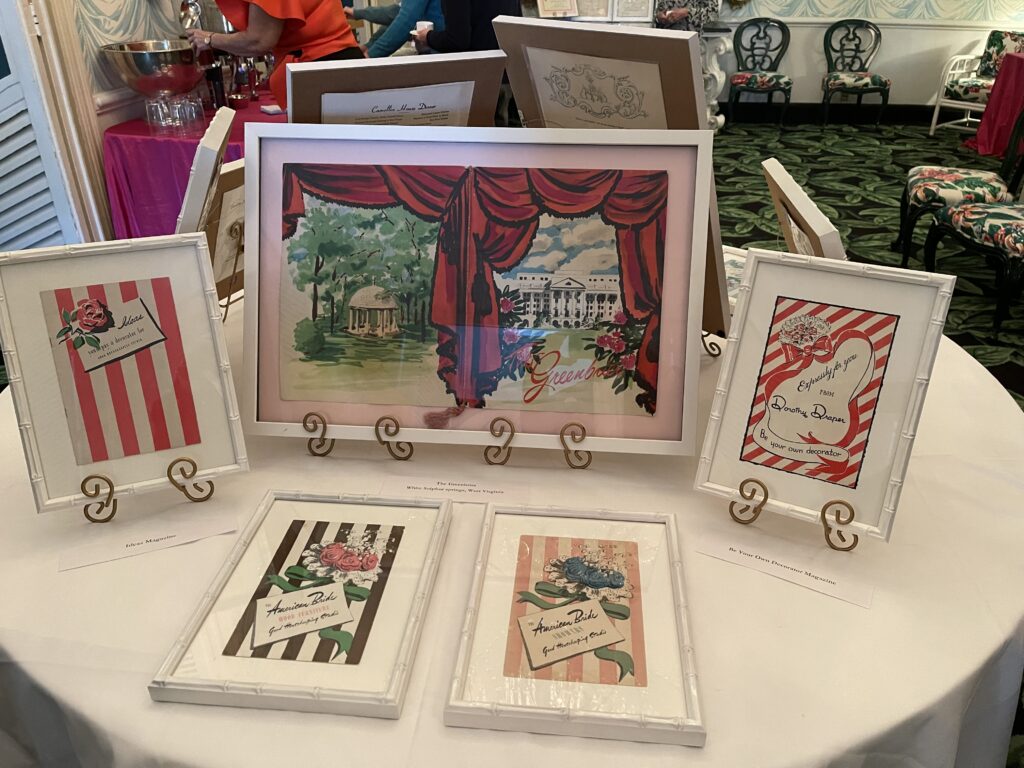 Collection of menu's from around the country that Dorothy Draper designed- on display and provided by Julie & Steve Lazarus from Cincinnati – for the Dorothy Draper Weekend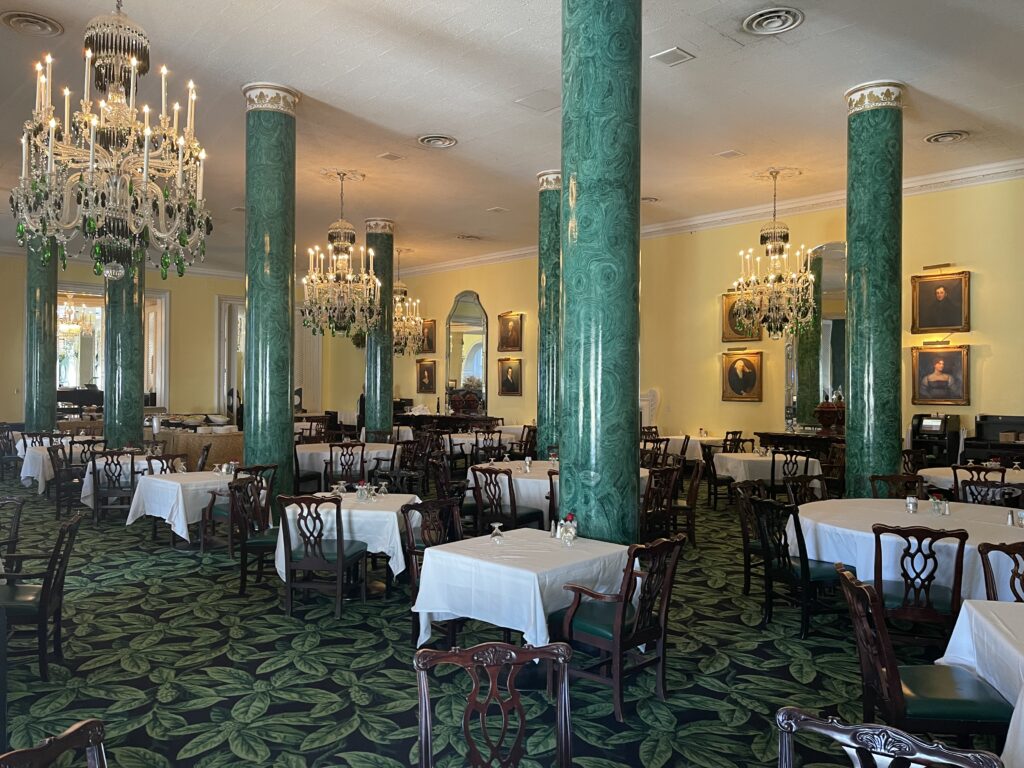 The Main Dining Room – Carleton Varney added the emerald crystals to the chandeliers and the walls are a "Shannongrove Lemon Chiffon"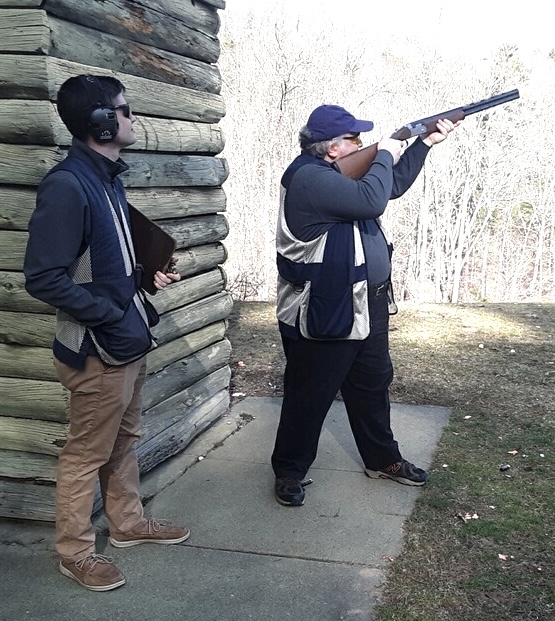 Brad Cue out shooting sporting clays with guide at The Greenberier Hotel
We then had just enough time for a nap, leisurely bath & some champagne while getting dressed before joining the Draper Weekend guests for a special cocktail party in The Presidents Parlor where we met Nicole Reber wearing London designer Richard Quinn topped with a pink turban….. so chic!! And Mary Andriotis – associate editor at House Beautiful who was so charming!  Followed by cocktails just with our little group in the Lobby Bar – and as we were walking down the hallway in the "Upper Lobby" approaching the bar- I thought to myself- this view and perspective looking through the lobby to the Lobby Bar and on into the Trellis Lobby- is one of the most beautiful visions through a hotel that I have ever seen.   The thought and pure talent of scale and proportion and design by visionary Dorothy Draper sends chills down my spine.  The combination of the black & white floor with blue walls, looking through the arch to the red walls with white "modern baroque" pediment – then framing the stunning Hampton Meadow Lawn walls- with a singular framed palm tree painting is simply breathtaking!  We continued on to Prime 44 West for the most delicious Lobster Chowder followed by Dover Sole served tableside.  After dinner, we ended up at Café Carleton while Jim did some damage at the Blackjack Table inside The Casino Club on the lower level of The Greenbrier Hotel and all called it a night around 1:30 am.
Miss Nicole Reber wearing London designer Richard Quinn with a very chic pink turban!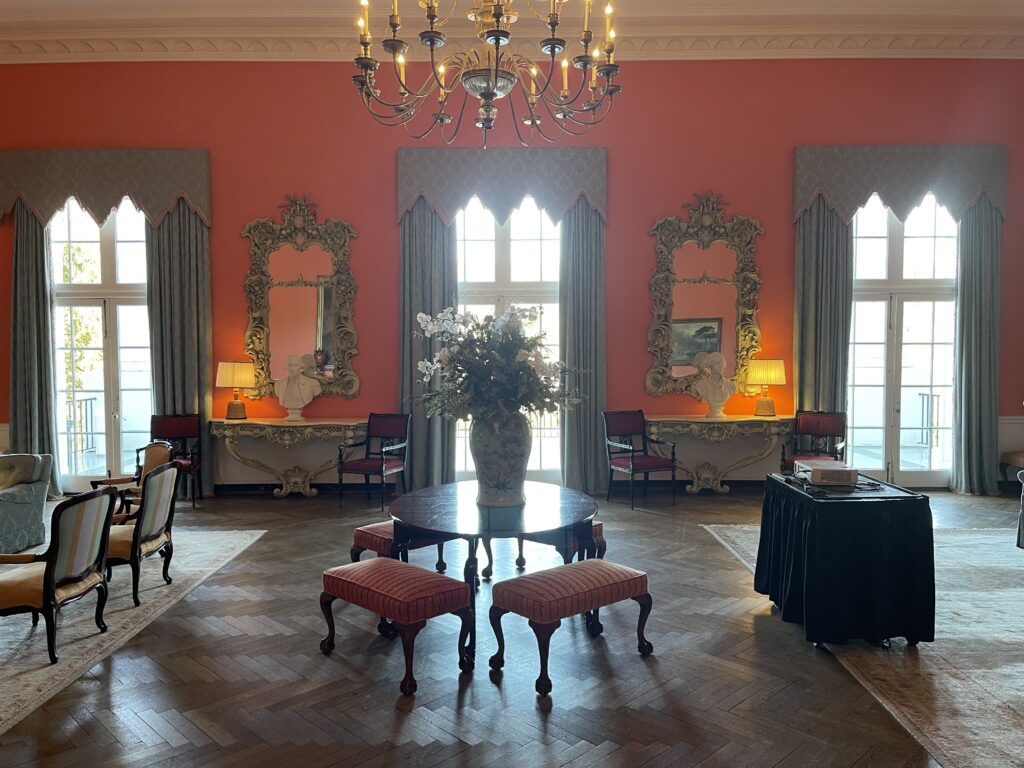 The North Parlor or sometimes referred to by Carleton Varney as "The Presidents Parlor" – wall color is Presidential Salmon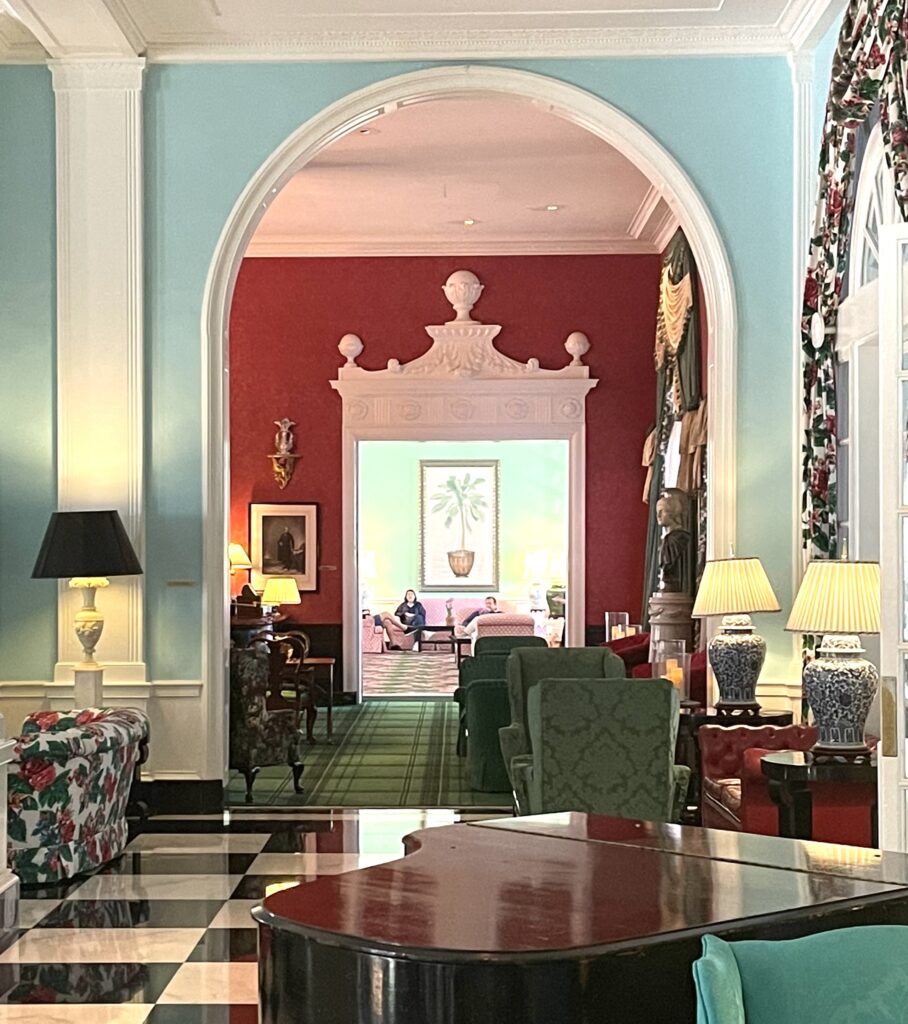 Spectacular view from the Upper Lobby looking down towards the Lobby Bar (with its magnificent "modern baroque" pediment)  and then on to the Trellis Lobby
Prime 44 West for dinner as Owen prepares the Dover Sole -tableside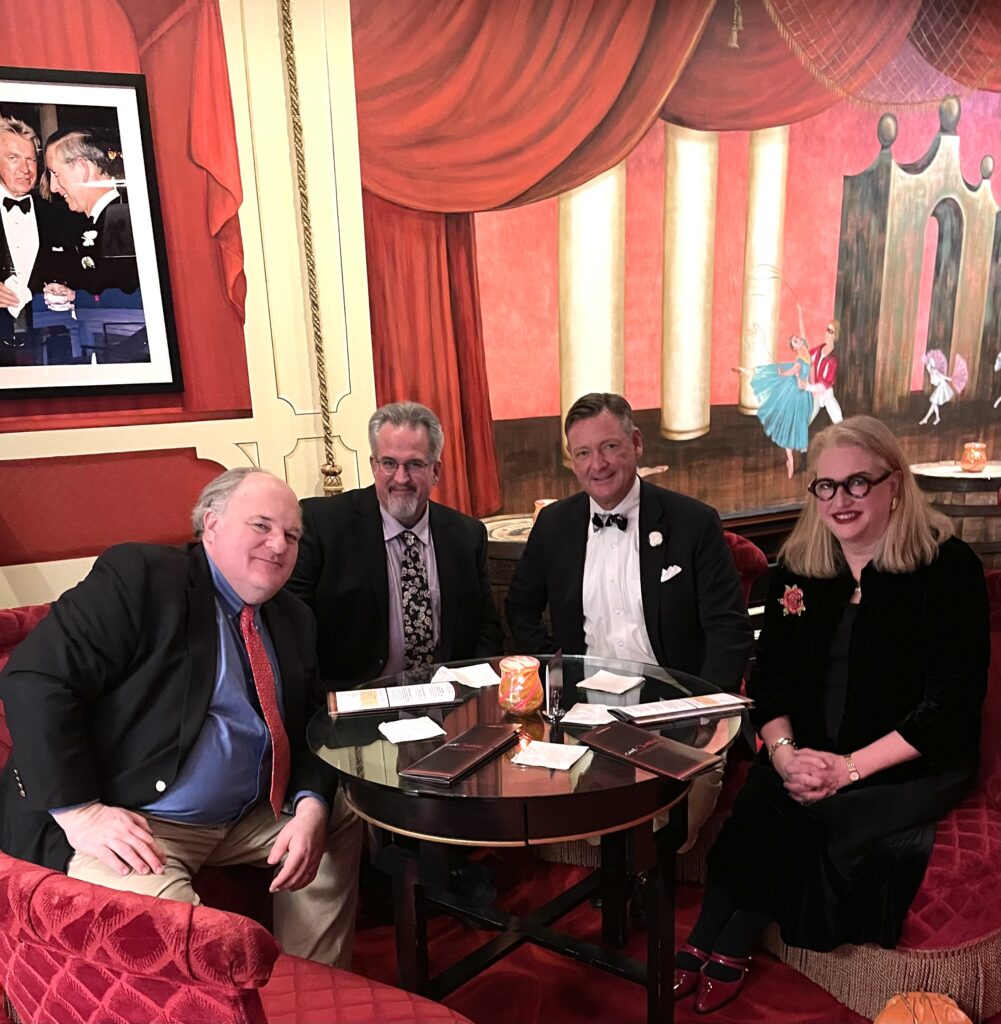 After dinner cocktails in "Cafe Carleton" with (L to R) Brad Cue, Jeremy DuBrul, Brian D. White and Sophie DuBrul Cue
Saturday was another busy day with a fabulous program by Carleton Varney featuring design tips, answering questions and showing clips of Dorothy Draper being interviewed for TV.  Dorothy Draper – a New York Debutante born into old money growing up in the rural Social Register enclave of Tuxedo Park – became as famous as Oprah, Ralph Lauren and Martha Stuart…..combined!  She was a marketing genius with the ambition to re-decorate the world in her "modern baroque" style.  Even General Dynamics hired Draper to style the interior of its "next generation" jet plane, the Convair 880…..and even the seat buckles were gold plated!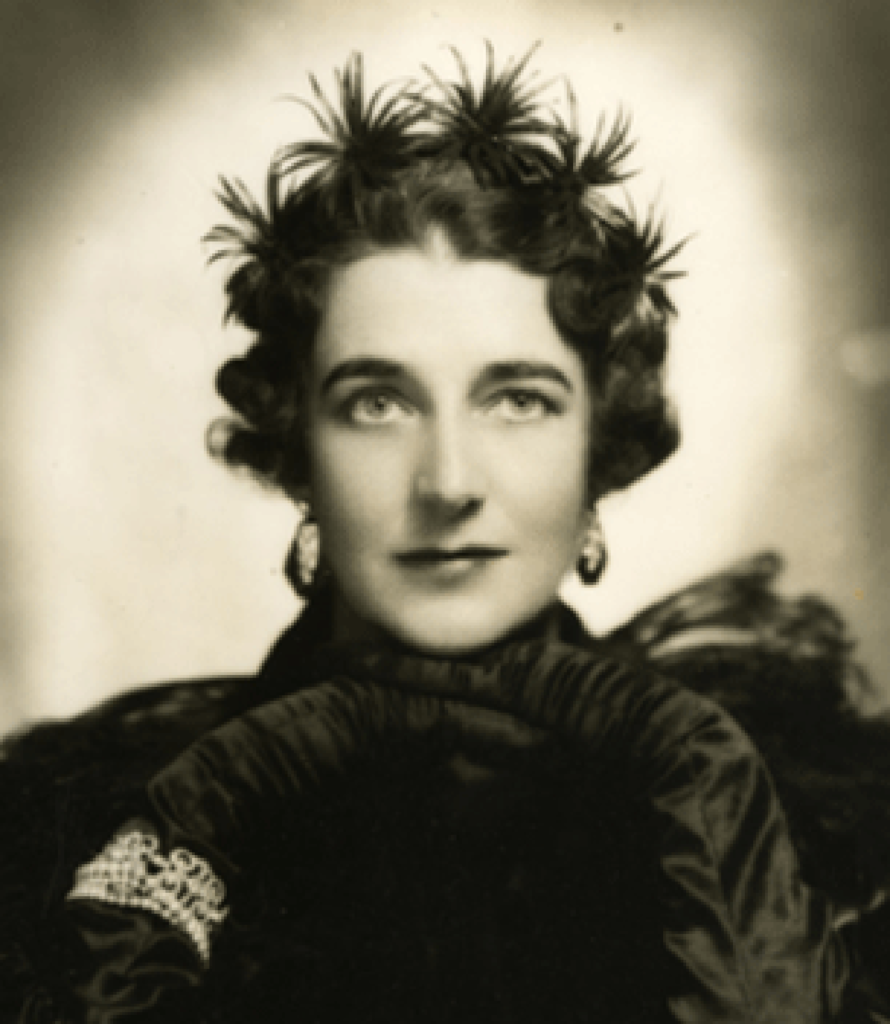 Dorothy Draper in the late 1930's – "Image provided courtesy of Dorothy Draper & Company, Inc."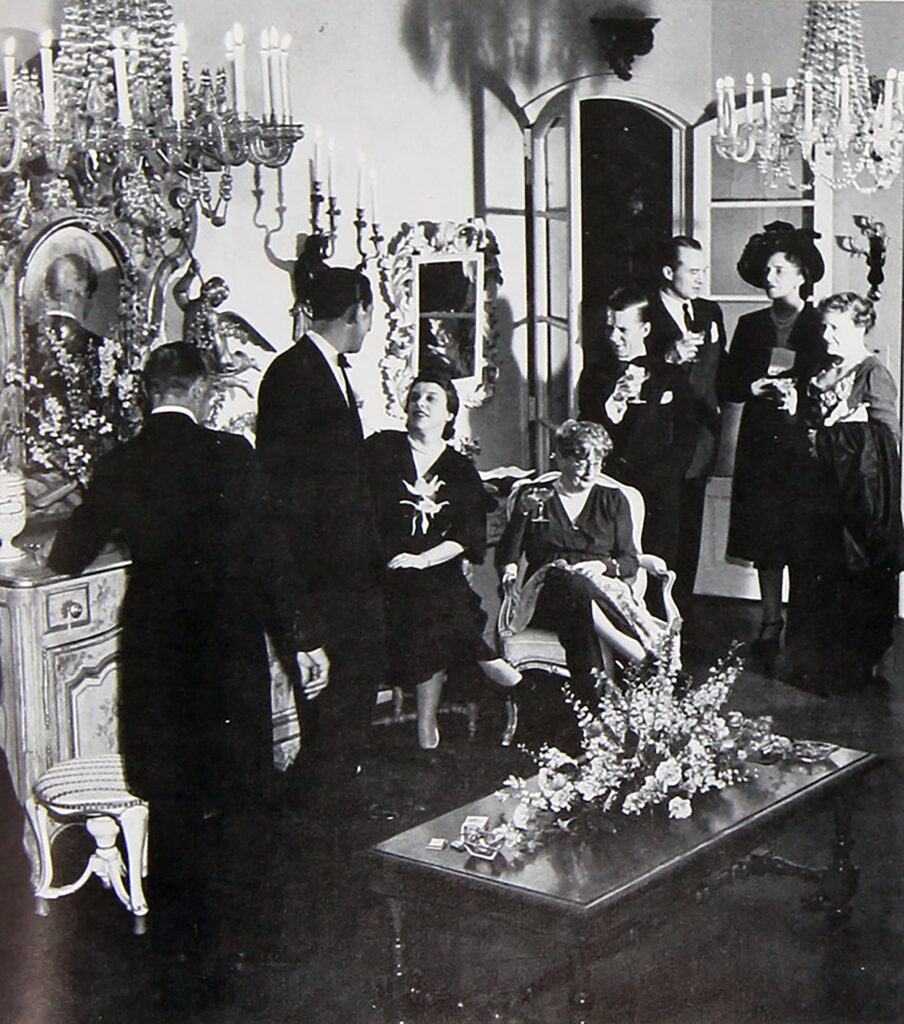 Interior designer James Amster, second from left, welcomed the stars of the 1940's New York decorating world into his home, including (L to R) Muriel Draper, Ruby Ross Wood, Billy Baldwin, William Pahlmann, Dorothy Draper, and Eleanor Brown. – "Image provided courtesy of Dorothy Draper & Company, Inc."
Our afternoon continued with a horse drawn carriage tour of the grounds of The Greenbrier with clear sunny skies and 80 degree temps and you could just see the tulips popping up & crocus sprouting out of the lawn.  We then returned to our room to relax and get ready to meet our group for cocktails in the Trellis Lobby, followed by a decadent dinner in the main dining room with a superb venison then my favorite grand marnier soufflé with my preferred warm caramel sauce & whip cream (instead of the boring crème anglaise that is usually served!) After-dinner drinks back at Café Carleton with a little dancing to the live band playing capped off the night.
Horse-drawn carriage tour around The Greenbrier Hotel (L to R) James M. Kinney and Brian D. White
Sunday started off with remembering that my parents told me to "always take the time to smell the roses" enjoy and savor every moment you are with friends and people you love – & appreciate what you have and that has always been very important to me.  With that in mind….I poured myself a glass of champagne…..turned on my little JBL and put on some Cole Porter – to put my contacts in!  I thought to myself- this is something that would have made Dorothy Draper smile at 9 in the morning!  We then left our room only to hear the birds chirping outside the open window in the hallway & went to the dining room for the favorite "Sportsman's Breakfast" featuring fresh trout, scrambled eggs, breakfast potatoes & bacon. We then took a moment to walk around other parts of the hotel and finally discovered the gorgeous- Indoor Pool with the Rhododendron Café just beyond.  Of course there is also the bowling alley, movie theater, escape room, adventure zone for children, spa, salon, as well as horseback riding, fly fishing, a golf academy, gun club, ice skating, hiking & meditation trails, tennis, jeep adventures – you name it!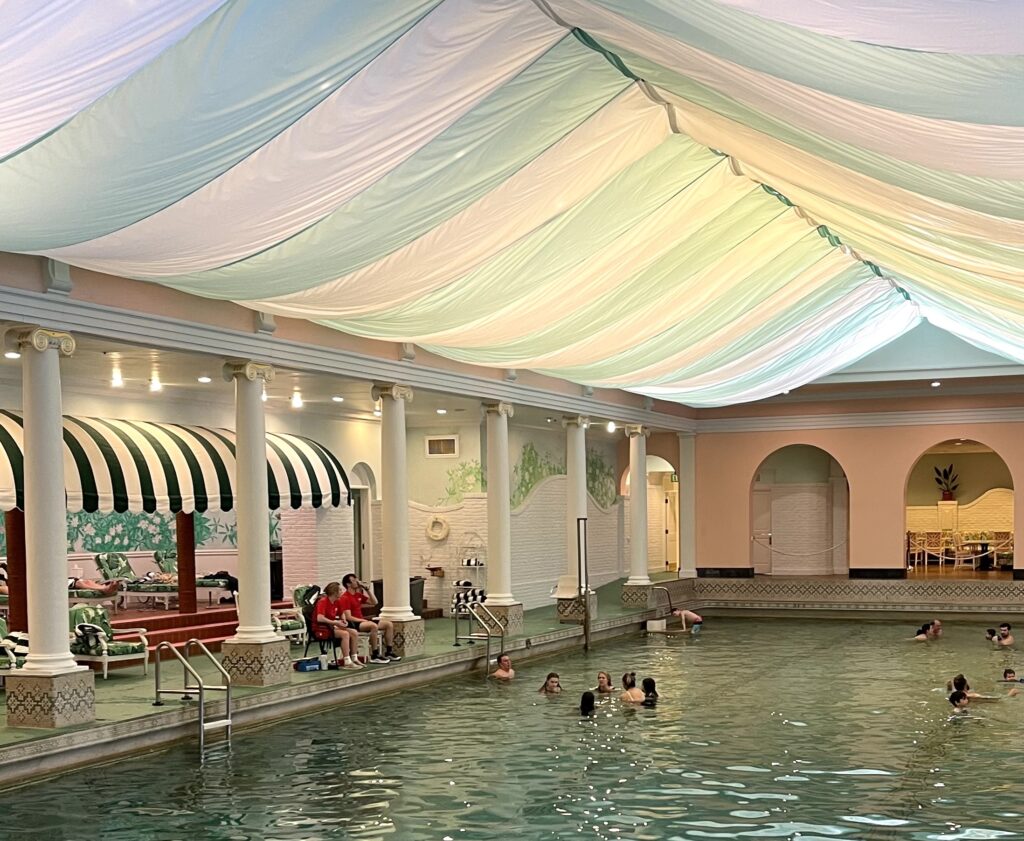 The Indoor Pool with the Rhododendron Cafe just beyond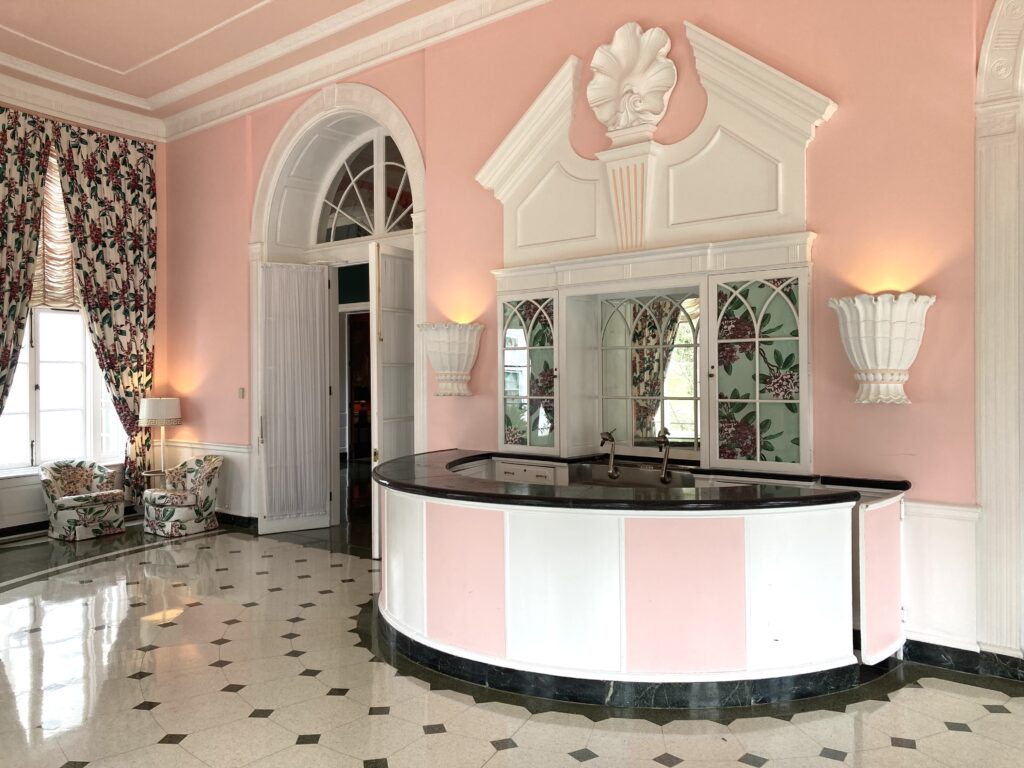 The Soda Room (where they served the White Sulphur Springs natural water) just off of The Cameo Ballroom
Entrance to the famed "Camelia House" located at The Drake Hotel in Chicago, IL – another hotel once decorated by Dorothy Draper. "Image provided courtesy of Dorothy Draper & Company, Inc."
We ended our visit with an elaborate "Bunker" tour (relinquishing our cell phones as no photos are allowed) hearing about its illustrious (secret) history and ending up some 60 feet below the hotel surrounded by 5 feet thick concrete walls & ceilings, which was rather incredible. 
As we were leaving the hotel I couldn't help but think that I was already getting excited to start planning our visit again next year and rallying more of our friends to join us!  A place where "The Vacation Season Never Ends" and the roses………. designed by Dorothy Draper & Carleton Varney…. will last forever.
By Brian D. White
End.
link