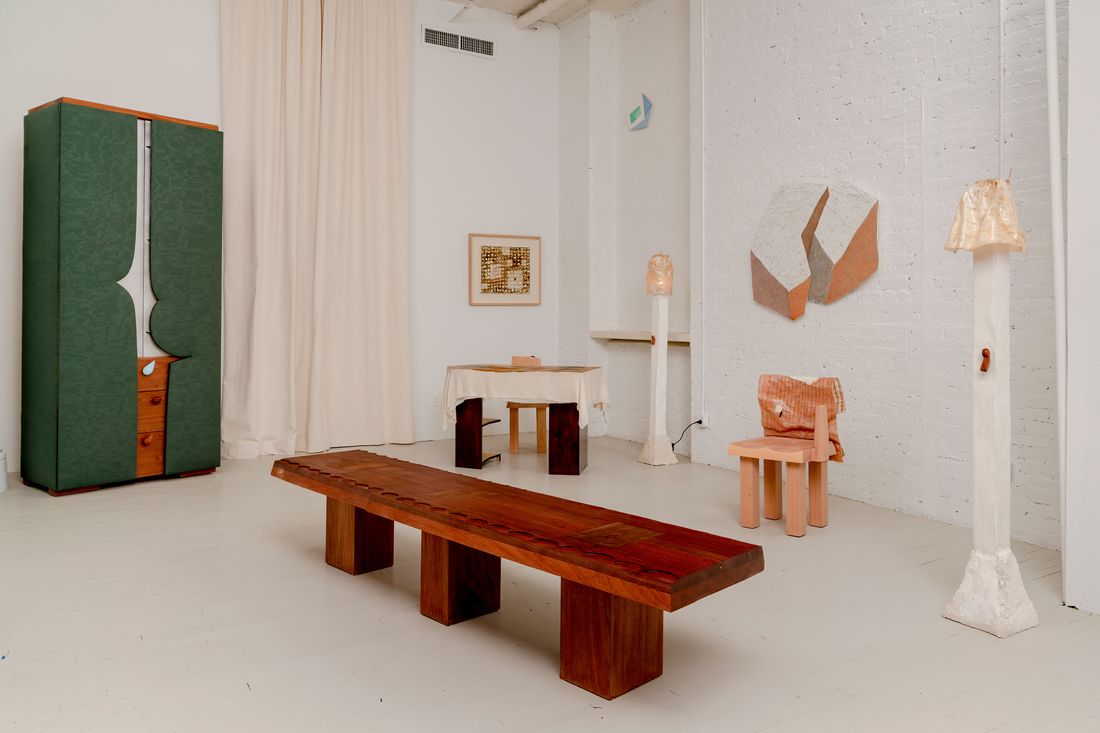 Photo: Sean Davidson/seandavidson
When the furniture designer Minjae Kim was in elementary school, his mother, Myong Ae Lee, was pursuing her M.F.A. in painting at Keimyung University in Daegu, South Korea. "I was that kid somebody brought that was running around when everyone was working," Kim recalls. Seeing Lee create her paintings — abstract pieces that meditate on themes like the relationship between individuality and coexistence — and living among them in his childhood home, where Lee also worked, "helped me understand the process of working toward something," Kim says. "What are the highest aspirations that you aim for? It's the quality of work, not just a financial thing. That was always ingrained in me." That influence is now on view at "Minjae Kim and Myoung Ae Lee — Mother and Son," a new exhibition at Matter Projects, which presents Kim's latest collection alongside Lee's paintings, which are being shown in the U.S. for the first time.
Kim always wanted to be an artist like his mother, but his family steered him toward financially stable work. He ended up attending graduate school for architecture and until recently worked for Studio Giancarlo Valle, the interior-design firm behind Marilyn Minter's weekend home in Cold Spring and Altazurra's Upper East Side showroom. He started making furniture in college — small, intuitively designed pieces that were the opposite of the rational, restrictive work he was doing in architecture — as a side project. "Whenever construction work is frustrating, I make furniture," reads a line on his website in Korean. That sense of freedom and playfulness shows up in his chairs, which seem to have an arm raised or to resemble a person sitting down. His approach to materials also defies expectation; the carved wood sometimes looks supple, like a chair that has a handprint carved into it, or is contoured to appear to have been slowly worn down over time. Besides wood, he works with rolls of quilted fiberglass, which he drenches with resin and molds into organic shapes for chairs and lamps. "They've become kind of like autonomous things," Kim says of his furniture. "They embody these characters and then they start to engage with each other."
Minjae Kim and Myoung Ae Lee.
Photo: Sean Davidson
During the pandemic, Kim decided to leave architecture and pursue his art practice full time in New York. Since then, his work is seemingly everywhere. His debut solo show was held in July at the Los Angeles gallery Marta, earning him praise in PIN-UP, Sight Unseen, T: The New York Times Style Magazine, and Architectural Digest. His work has since appeared in a slew of exhibitions — Head-Hi's Lamp show, NADA House 2021 on Governors Island, a TIWA Select presentation for SIZED — and in collectors' homes.
While he launched his own practice, Kim was thinking more about his mother's work. After 14 solo exhibitions in Korea and Germany, she was entering a later phase in her career. "Would it be possible for me to nurture her work in the way that she nurtured my life?" Kim wondered. Whenever he had an exhibition or an editorial photo shoot, Kim would add one of Lee's paintings in the background. The chance to do something bigger came when Jamie Gray, Matter's founder, came by Kim's studio for a visit. Kim had just moved into a new space in Ridgewood, and Gray initially mistook Lee's paintings on the wall for Kim's. The designer recalls, "As we were talking about doing a show with the gallery, I was like, 'What if we did it with her?'"
In "Minjae Kim and Myoung Ae Lee — Mother and Son," their work does in fact seem to have parallel, if distinct, sensibilities, which lean into material experimentation, texture, and form. Kim's blocky wood-and-fiberglass chairs, slender mushroomlike floor lamps, and tall upholstered armoire appear to have come from the same aesthetic universe as Lee's thickly textured, irregularly shaped canvases — they look a little like Tangrams — and her grids of thick impasto, reminiscent of Agnes Martin's paintings. Exhibiting in the U.S. wasn't something that Lee aimed to do, but putting the show together with her son and seeing how his pieces and her paintings work together in the gallery is an experience that she describes as an "unimaginable opportunity." "Through this exhibit, I see Minjae being able to expand his palette more and branch out from his previous body of work," Lee says. "An artist's momentum is so important. As I collaborate with him, I wonder how what I see and experience here may enter into my own work. I may want to work with different materials."
For Kim, the show has also helped to bring more closeness to his relationship with his mother, which had been strained by the distance between them. (Lee lives in Daejeon, while Kim is based in New York.) "Every short visit was a massive effort to close that gap," Kim says. "It was always kind of emotionally unpleasant or turbulent. This exhibition was a way to kind of go beyond that." It also helped Kim show his mother that he would be okay after leaving the stability of a desk job. Lee seems understanding of her son's choice. "I don't see Minjae's path as him turning from architecture to furniture," she says. "I see it as him expanding his path. He is going where his trajectory is taking him. To pursue what has meaning results in the best work and makes one the happiest and is the most healthy way to be as an artist."
Minjae's Shaped Canvas chairs are carved from wood and have molded fiberglass backs.
Photo: Sean Davidson
Minjae Kim: For my Shaped Canvas chair, I straight up rip off of one of my favorite paintings of my mom's, Work 0005_3 Coexistence. I was like, I'm just going to turn this into a chair back and see what happens. I had been trying to play a little more with color and this idea of trompe l'oeil in furniture. I started making furniture in architecture school, which taught us that everything has to be honest. It's this very modernist idea. I've been trying to depart from that a little bit, and this exercise helped me out. I didn't even tell my mom I was going to do this. I sent her a photo of the chair and asked, "What do you think of this?" She was like, "Oh, it's my painting." I think she felt a little surprised but also invaded, too, like I just took her work.
Myoung Ae Lee: Even when I saw the chair in photos, I was shocked. I wondered, How did he make this into a chair? I was impressed by his talent and his risk-taking. I was awed by how he prepared the fiberglass and completed the chair with it. It's not like he changed the material to fit the chair; he took the material the way it is, and I was surprised by how well that translated into becoming a chair. And the way it goes with the wood seems so natural and appropriate.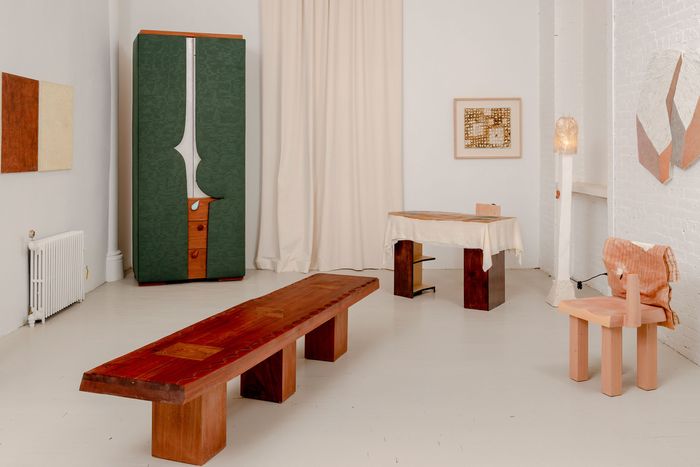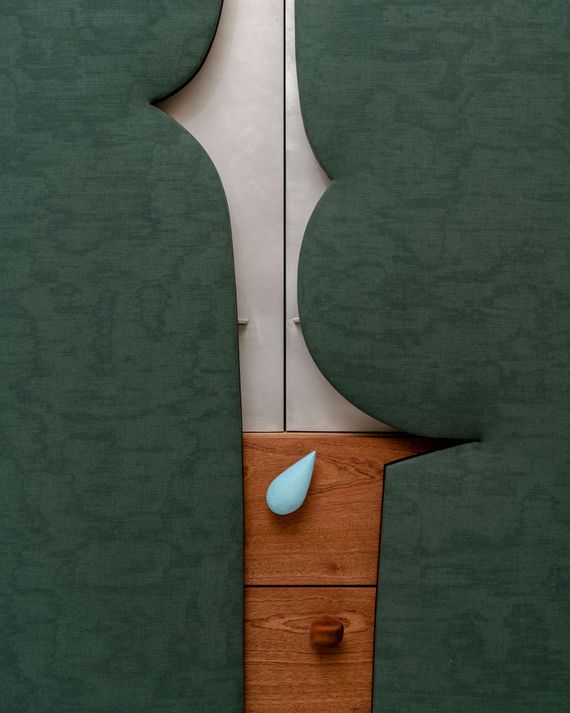 Kim: I have an obsession with cabinets, and I love playing with doors. The main thing I wanted to create was a composition that doesn't necessarily work as a cabinet. The materials were a reaction to that. The aluminum door is attached to the green-fabric door. This is the most ambitious thing I've made so far, and I don't think I could have made this a year ago.
Lee: Coming here, I see Minjae's work more in artist-to-artist terms. Before I came, I might have had more conventional concerns about it — Will people like it? Is it solid enough to sit on? Now, I have a lot more trust. I can go beyond that conventional curiosity. Working on this together deepened my trust and our mutual regard for each other as artists. We always show each other our work; I show my son my new paintings, he shows me his new work. During the pandemic, it was through phone and photos, however. But seeing it in person, and organizing this show with my son, my heart is full.
Kim: This is a prototype of a cast-aluminum dining chair I developed with Mattermade, Matter's in-house design-and-production team. I had been thinking about working with cast aluminum for a while, but I wouldn't have been able to do it on my own. I like the softness of aluminum. I had worked with steel before. Aluminum is not too precious and unique. And for the longest time in my studio, I had this piece of an aluminum boat propeller that I found at a beach. It's dull, and I loved the material quality of it. I also started painting chairs and cabinets with aluminum roofing paint. MyoungAe always described the mountain paintings as more casual work, and something about that felt more domestic to me. We made the gallery's smaller room into a dining area with a few chairs and a collection of tables.
Lee: The mountain piece is a more recent painting. In Korea, the natural world is incredibly charming. It's a mountain-and-stream landscape, where mountains and water coexist. I made a landscape painting from the mountain in my mind — it's an idealized, fictionalized scene. I make these pieces because I am interested in capturing the characteristics of a mountain. The unique quality of a mountain is all these peaks, a shape made by little hills that come together. I used bright colors because the landscape is that bright in Korea. My main work is abstract, but I turn to painting mountains whenever I feel the urge.
Kim: This chair pairs with the writing desk, and it's the same format I've used for many of the carved-wood chairs I've been making. This is more of a sculptural piece, with two figures carved on the back. I worked on it around a month ago, when there were swarms of photos from Ukraine of dead bodies. It was a time when I couldn't get into working on other things. I didn't know what to do after seeing all of those images. I thought I could at least make something. It's a slightly different story from the rest of the show, but it's here. We're donating all the proceeds from the sale — if we do sell it — to Ukraine relief.

link