inside harry nuriev's denim furniture exhibition at carpenters workshop gallery
Harry Nuriev's Denim furniture and exhibition
Harry Nuriev is touring designboom inside his debut solo exhibition 'Denim' at Carpenters Workshop Gallery as if it were his apartment. He clicks on his phone to use his rear camera and begins to show us around his denim-furnished show which runs from March 4th to May 13th, 2023 in collaboration with Aurélie Julien Collectible. Once, he envisioned a room with furniture colored in hot pink. Then, he imagined an apartment full of denim furniture.
As he guides designboom, it's clear that this idea has turned real. 'The concept is a denim apartment. We live in our home in different ways now because our life has changed so much. I decided to embrace it and transform it in how I see it,' he tells designboom. From gym equipment and a vanity desk to a very-spacious sofa and large dining table, everything is covered in jeans, accentuated by the gritty tears and scratches over the material.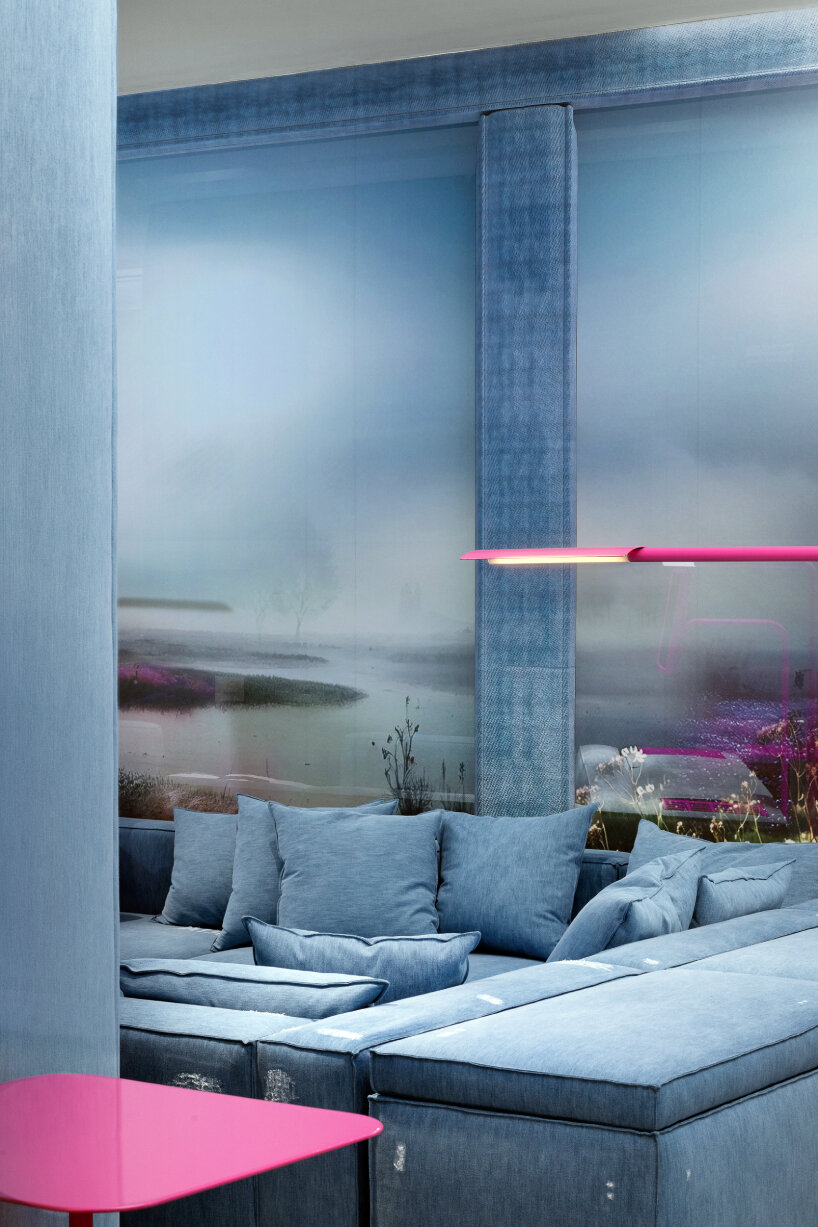 images © Harry Nuriev, courtesy of Carpenters Workshop Gallery | photos by Benjamin Baccarani
Nuriev points the camera at his furniture while he narrates what he thinks of them. He substitutes a kitchen island for a jeans-clad DJ table with lots of storage below because 'Why waste your space for a kitchen when you can have something more functional?' he tells designboom. He turns around and back again to hurry up by the entrance of the gallery. There, a denim-clad gym bench, pull-up, and set of weights greet visitors, and Nuriev zooms in on claw marks of the material, grazing his fingers on the jeans' fibers.
He marches forward to show us the large dining table with low-level cushioned stools as the chairs. On his right, his mirror didn't escape from his ingenious reinvention. He stops for a while for an outfit check. He's dressed in a gray jacket, a flowy black skirt that pools on the floor, and a light gray pair of socks and sneakers.
When he enters the room at the far back, the dark walls dim the space, but thanks to his generous vanity table with warm LED lighting enclosed around the mirror, the room is still visible. He says, 'look at this. I would use this as my desk. I think it's perfect'. One can say the same for his denim furniture and exhibition.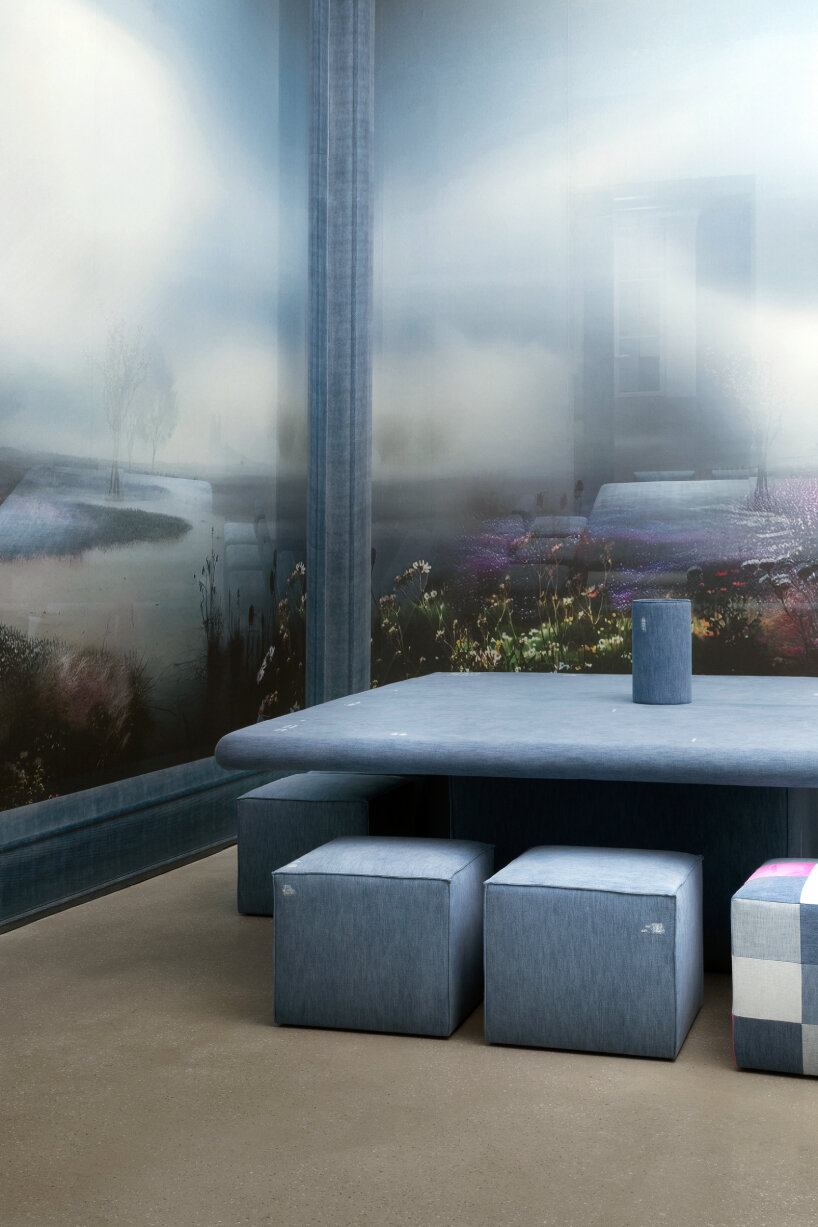 His tour ends in one of his favorite spaces and piece of furniture in the debut show, the Sofa Pool. The giant square-shaped sofa is modular, each piece is detachable and attachable. 'You can use one piece as a chair, two of them as a sofa, and three of them as a bed. You can have an L-shaped seating or even a U-shape if you want. You can arrange the whole set yourself, and it looks like a pool. That's a fun part right there,' he shares with designboom.
Harry Nuriev sits down on one of the stools of the Sofa Pool and reflects on how fashion has influenced his design and lifestyle. 'Denim is our present fabric. It responds to our body and style, and while we're all different, denim has this very specific texture and message that we all like. It's an everyday material that we don't think twice about. I think I have denim things that I like but I keep some of them as souvenirs, meaning I don't use them anymore. The others though, I repurpose them. I turn them into shorts, and in this case, furniture. It's not about breaking the jeans down. Denim should be an infinite cure,' he says.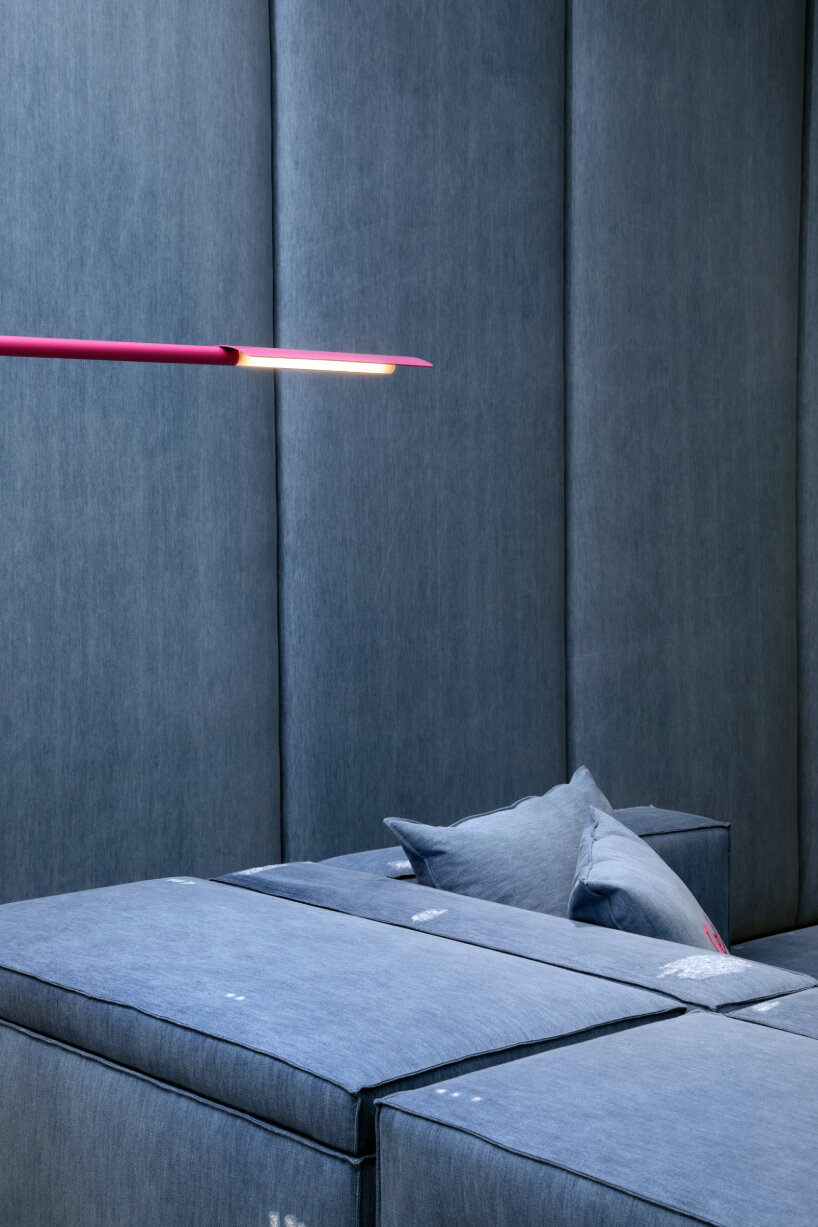 Dreamy landscapes created using AI
Glancing at the walls, the hazy, euphoric landscape lures in attention. Nuriev says that the wallpapers around the exhibition are part of the collection. They are dreamy in an artificial intelligence way. Gray clouds brew in the sky. A winding river glistens through its still water. Thousands of saturated magenta flowers sway and stand, adding flecks of color to a grim-looking backdrop.
The whole sequence echoes a hallucinatory dream where the sleeping person tries to weave their way out of, a seeming contrast to the human-grounded denim apartment. 'They're there to show the window views, like looking outside of your apartment,' Nuriev says when designboom asked for his inspiration on the printed wallpapers. 'Their designs are an accumulation of my relationships with nature. They embrace this dream and melancholic ambiance, like a fantasy world that is out of touch in reality.' 
link