Kirsha Kaechele, artist and curator, talks style, fashion, passion and Hobart life with MONA's David Walsh
A great extravagance I once bought was . . .
A really stupid dress from Rodeo Drive in Beverly Hills. My husband [David Walsh] was courting me, and it was sexy and fun to put it on and have him buy it for me. It's poufy with an embroidered corset. I wore it to the Melbourne Cup and felt ridiculous. The photographers agreed – they ignored me and took photos of David.
You can never be overdressed. True or false?
At my house, you can never be overdressed (or underdressed – wink wink) but on the streets, dressing well is a gift because you're contributing to the public aesthetic experience.
It is almost a civic duty – to envision what kind of a city you wish to live in and help create it. We love Paris, because of the architecture, but also because of how the people add to the streetscape with their stylishness.
A thing I'm passionate about is . . .
Zero-waste practices in restaurants and hotels.
I torture the manager of every establishment I frequent with plans for replacing plastic with beautiful objects that last forever and enrich the aesthetic environment. I am also doing a lot of guerilla tree planting in urban wastelands.
I like finding the ugliest spots and turning them into verdant paradises. I hire professional landscapers who don't mind breaking the law, and the council goes "what the f—?". It's my ultimate joy.
If money was no object, the artist I would collect is . . .
Picasso. His paintings, not the piddly little ceramics I currently collect.
When friends pop in I always have on hand . . .
Plans for a group adventure.
My idea of a good time is . . . Microdosing with good friends in the middle of nowhere.
But don't expect me to . . . Behave.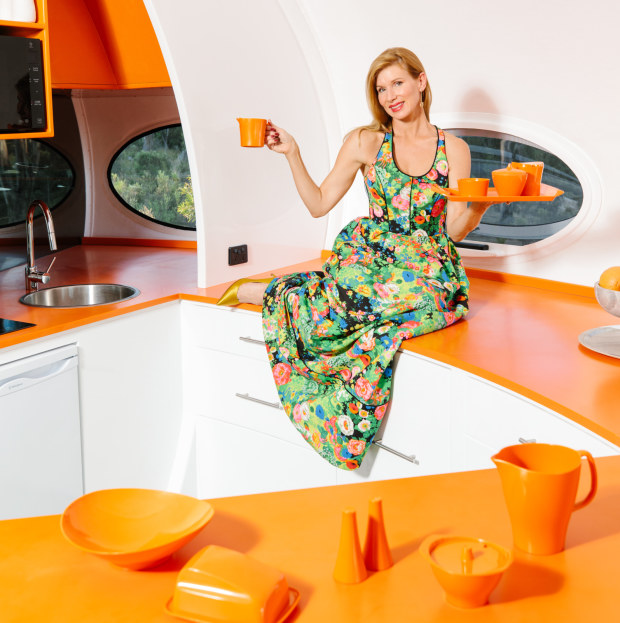 A film I saw recently and loved . . .
The Card Counter by Paul Schrader. This has nothing to do with the fact that my husband is a professional card counter.
Or was, rather; he'd get kicked out of any casino in an instant now. Now he just bets from a distance in abstract algorithmic gibberish. But he started as a card counter.
Still, that is not why we like the movie. It is stunningly written and features a fabulous performance by an actress I wasn't familiar with, Tiffany Haddish.
The whole film made me simultaneously uncomfortable and delighted, and my husband and I kept shouting out: "This is Dostoevsky!"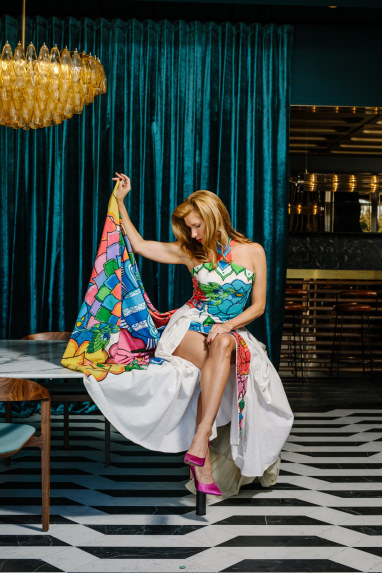 The book I read recently and would recommend is . . .
The Ministry for the Future by Kim Stanley Robinson. It's a novel with a gruesome opening. Persevere! It is very inspiring. It made me a better citizen with regards to my carbon output. And it made me want to work high up in policy. I'm now learning French so as to be UN-ready.
What's keeping me busy now is . . .
Renovating our winery, Domaine A, which is an astoundingly unattractive McMansion (very challenging). Frustrated at being locked out of Europe, I turned the inside of the McMansion into a mini Gritti Palace.
We celebrated its completion with a Venetian-themed fundraiser for 24 Carrot, our wonderful kids' garden program.
Courting funders for 24 Carrot takes a great deal of my time, starting with my husband, which by extension means tending to my children aka being a good mother, being sexy and cooking (sorry feminists, but it's a hard job!).
Then there is dreaming up Material Institute in New Orleans, our free fashion, art and music school.
I'm also designing objects (ceramics, cutlery and furniture), writing a memoir, improving my Spanish, learning French and, to restore myself, doing Wordle, Quordle and Sedecordle.
An architect I admire is . . .
[Peter] Zumthor. I like all the hardcore classic minimalist-brutalists. Tadao Ando used to be my favourite, and I still love him, but I'm kinda over the large boltholes.
I also admire – and am frequently blown away by – Nonda Katsalidis. He always challenges me with his maximalism, but he is so good that I love him anyway. Living in his spaces is great.
And of course John Wardle is a master when it comes to wooden houses. His detail is sublime. I rebel against his crystalline angles but his work is so fine it transcends my disdain for crystalline angles. I could talk about architecture forever.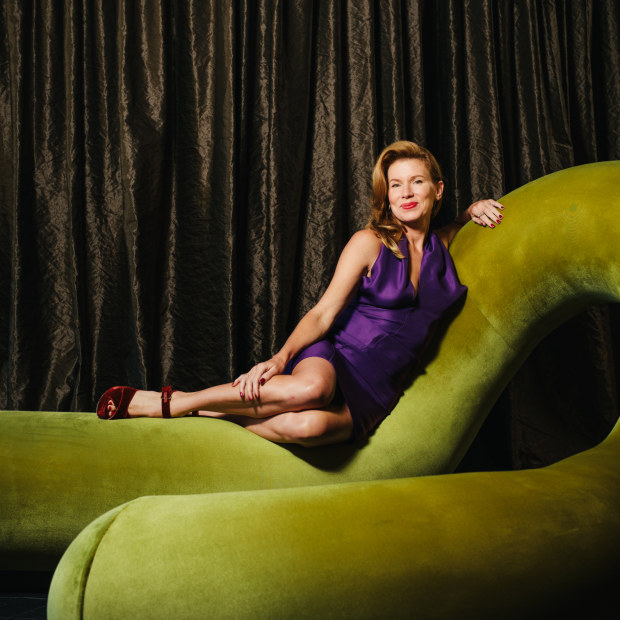 My favourite gallery (other than MONA) is . . .
The anthropological museum in Mexico City. It is an architectural wonder – it has the best fence and a mammoth central fountain and a mind-blowing collection of pre-Columbian art.
The Museum of Anthropology in Vancouver is architecturally divine and has a fantastic Native American art collection. Then there is the Museo Dolores Olmedo in Mexico City which is colonised by peacocks. We, too, had peacocks roaming our grounds.
I collected them from the far corners of Tasmania, and they happily made their home on the MONA.
My favourite piece of furniture is . . .
Well, I'm quite partial to my own new sofa design, a centrepiece in both my Ladies' Lounge installation at MONA and the Domaine A renovation. It's a six-metre long, chartreuse-velvet snake-like beast.
In the Ladies' Lounge it's tethered, restrained in golden chains, but in Domaine A it's free. I've also designed a feasting table for 77 guests that is also the world's largest xylophone.
A place overseas that I'm impatient to get back to is . . .
Mexico (all of it except Tulum which I can't stand) and Lisbon and Venice. I really want to explore Africa as I have never been there, and I hope to begin this year with the north. It will probably be a lifelong project. I'm planning to start Arabic on Pimsleur once I get the French a little beyond rudimentary.
Styling by Liana Rossi
The winter issue of Fin Magazine is out on Friday, May 13 inside The Australian Financial Review.
link