Lyon Housemuseum owners Corbett and Yueji Lyon give away Melbourne home and public gallery plus art collection
"All her furniture was there, the Calder bedhead, her dining table and these fabulous Pollocks and pictures she'd personally collected, all presented in this bespoke setting. I took that memory away and [kept it] for many years," Lyon says. "Here was a very personal museum where you learnt something about the collector, the artists and most importantly the connection between the two."
Within 10 years, Lyon had begun his own contemporary Australian art collection, guided by respected Melbourne gallerist and friend Georges Mora, who advised him to look for artists with a distinct voice, spend time getting to know them and their work, never collect for investment and – perhaps most importantly – never invest historically, collect for now, collect your contemporaries and collect in depth.
It was sage advice. Today the Lyons own one of the country's most comprehensive collections of influential contemporary artists, 350 works from 60 artists including Patricia Piccinini, Howard Arkley, Callum Morton, Brook Andrew and Shaun Gladwell.
And the collection is growing; new works from the Ken Sister Collaborative, Jonny Niesche and 2022 National Photographic Portrait Prize winner Wayne Quilliam were purchased in the past 12 months, many of them cleverly displayed in the two bespoke galleries.
Back in the 1990s, however, the conundrum was where to house it all. It was 1993 when Lyon fell in love and married Shanghai-born former computer analyst and programmer Yueji, who expressed great surprise the first time she visited his small South Yarra apartment crammed with large contemporary artworks.
Yueji soon proved an equally passionate and discerning collector and, despite the couple moving to a house in Bulleen, displaying the art between that home and the eponymous Melbourne architectural firm Lyon had founded with his two brothers, there simply wasn't room for the art and their young family.
"I began to think about designing a building that would do two things: accommodate our growing family – our girls were four and six – and our expanding art collection; and most importantly, be able to share it with the public. There are plenty of private collections that never see the light of day; this was about sharing. It was a pretty bold idea and many of our friends thought we were crazy," Lyon chuckles.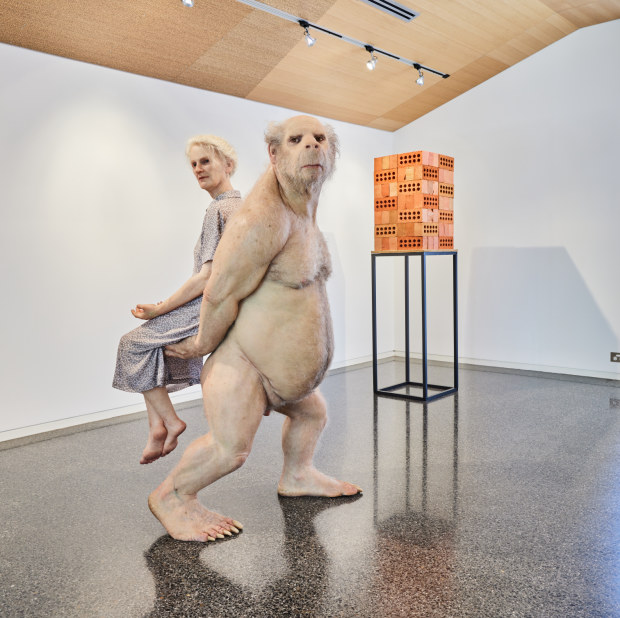 The Lyon Housemuseum opened its doors in 2009, an expansive, stylish hybrid house that doubles as a public art museum that Lyon insists is a world first. (Like Peggy Guggenheim, 18th-century London architect and art collector John Soanes and 19th-century industrialist Henry Frick had lived in their houses before adapting them as galleries.)
Indeed, Lyon coined the phrase "housemuseum". While the home does contain two small self-contained areas that are off limits to the public, most rooms double as domestic and public spaces, including the kitchen (a cafe) and Lyon's study (an archive for visiting academics).
Today the couple has personally guided through their home and their expanding collection more than 20,000 tourists; art and architecture students; directors from the Peggy Guggenheim Museum, the Tate; designer and presenter Kevin McCloud and even James Bond in the guise of Pierce Brosnan, a keen painter.
It was fellow collector Marc Besen who, during a tour of the Lyon Housemuseum in 2009, suggested Lyon expand his property holding. Besen and his wife, Eva, have collected what is arguably the most comprehensive collection of modernist Australian painters, including Sidney Nolan, Albert Tucker and Fred Williams, and displayed it to the public in their gallery, TarraWarra Museum of Art, since 2002.
"Marc looked through the side window and said: 'If that block of land ever comes up for sale, you must purchase it'," says Lyon. "Yueji blanched at the thought." As luck would have it, an auction sign was erected on the block a week later, and the couple snapped up what was essentially land value only; Lyon transformed the dilapidated house and tennis court into a large public museum with flexible exhibition space, complementing the existing dwelling. The Public Housemuseum Galleries opened in 2019.
"Put very simply, the idea was these two buildings would be designed like siblings sitting side by side in the street. If you stand and look at the front they have a very similar profile, except the new building is a bit bigger and is clad in bluestone [the Housemuseum's exterior is zinc], giving it a sense of being a permanent public building." A modest entry fee and a portion of the ticket price to events, artist talks and workshops offset the running costs of both galleries.
As publicly shared private lives go, it has been an interesting experience. "In the early days the girls, and to a certain extent Yueji, were challenged by people walking through the house," Lyon concedes. However, Yueji warmed to the idea, managing the tours, events and exhibitions and personally conducting the weekday tours; Lyon does the weekends.
"We both derive enormous pleasure from seeing people engage with the art in the strange spaces in the Housemuseum, so in that sense it's been very worthwhile, and we've built up very good working relationships with the artists. I think our two girls would say it was tremendous to grow up in the Housemuseum and engage with all the incredible visitors."
A legacy project
Prompted by his visits to the Peggy Guggenheim Collection in Venice and the Sir John Soane's Museum in London, Lyon established a foundation in 2012 that will ultimately own and run the collection and buildings that house it, for the public, in perpetuity.
"I thought how wonderful that was that those collectors had the foresight to gift and preserve their collections in this unique environment . . . this idea of sharing it with the public in perpetuity," Lyon says. "It's a nice legacy project for Yueji and me, but I don't think [it's about that], it's about seeing the enjoyment people may have by continuing to be able to visit these galleries."
After seeking advice from Besen, Lyon established the foundation and its board of six, comprising three independent directors and three family members including Jaqlin, and two more independent appointments pending. Interest from the corpus will continue to fund the museums' operations well after ownership has changed hands.
While establishing the foundation, Lyon began applying for a planning amendment that would ultimately change the use of the Housemuseum from a private dwelling to a public museum. "Once we donate the Housemuseum we're not allowed to live there … hence us moving out," he says. The conjoined building will reopen to the public in the second half of the year, known simply as the Lyon Housemuseum.
A few summers ago the Lyons visited Mount Martha, the coastal town where Lyon and his three brothers regularly holidayed from their home in Brighton when they were young. "It was a wonderful place to relax, and I said to Yueji, 'What about we build a house here?' and – I don't think either of us would ever use the word 'retire', architects never retire – but we thought we might move down there.
"It was a beautiful day and [there was a] block of land for sale with a lovely view and a really nice connection to our childhood summers. So, we bought the property."
In a beautiful continuation of the legacy that is these four generations of architects, Lyon has co-designed the new house with Carlin. "It has been a fabulous, fabulous experience," he says. The couple moves next month, and a small new apartment in Melbourne will provide a city pad.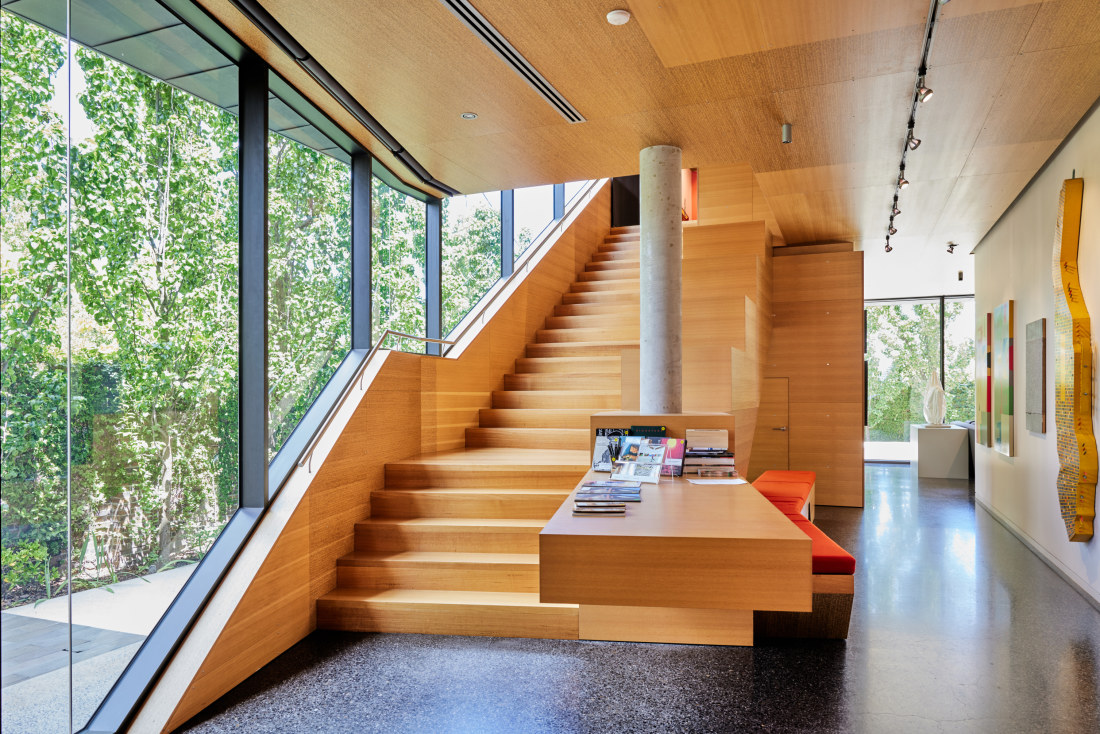 As to the thoughtfully and lovingly curated art collection, Lyon insists the plan is to give the vast majority to the foundation, possibly retaining just one or two pieces, and put their collecting years behind them.
"Many collectors call time and stop collecting," he says. "Our feeling is in the next couple of years, we'll round out the collection. Thirty-five years is a very long time, and it's been a wonderful partnership between the two of us, a life's project."
Having lived around and amidst such a vast personal body of work, surely it will be a wrench to shut the door on the Housemuseum and its precious art? "The thing Yueji and I talk about endlessly is that the Housemuseum is still there and the public museum is still there. So any time we want to go and reacquaint ourselves with our friends – and these works are friends, [Piccinini's] Truck Babies have sat in our living room for 12 years, they're part of the family – we can always go back and visit, so that's well and good enough," Lyon says.
When it comes to what they are about to give away to the public, Lyon is modest. "We've always genuinely felt we've been the custodians of the artworks for the artists.
"We don't [feel like we're] doing ourselves out of some serious cash, we've been really privileged to have held on to them for the time we have, and we're very keen now for them to go into a situation of public ownership where they can be enjoyed by other people, hopefully for a very long time."
The February issue of AFR Magazine – the Arts issue – is out on Friday, January 27 inside The Australian Financial Review. Follow AFR Mag on Twitter and Instagram.

link