The long and fruitful association of the masters of 18th-century English furniture is celebrated in a new book co-authored by Christie's International Deputy Chairman Charles Cator, who explains how it took years of 'detective work' to tell their story
In Christie's London saleroom, Charles Cator gently pulls out the top left-hand drawer of a satinwood and mahogany George III chest (pictured below). On the upper edge of the open drawer is a neatly imprinted number: 1861. He explains that when the chest arrived in the warehouse, the stamp was immediately recognised as an inventory number from Woburn Abbey, ancestral home of the Dukes of Bedford.
That four-figure clue was enough to send Cator back to the Woburn records his co-author Hugh Roberts had transcribed some years earlier, where he found a note of the original bill for 19 pounds and 16 shillings, along with a description: 'A high Mahogany Chest containing six drawers [the lower two being simulated drawer fronts]… full warded locks made on purpose to Your Graces own key'. It confirmed what his eye had already told him — that this was an unrecorded piece by the celebrated London makers Ince and Mayhew.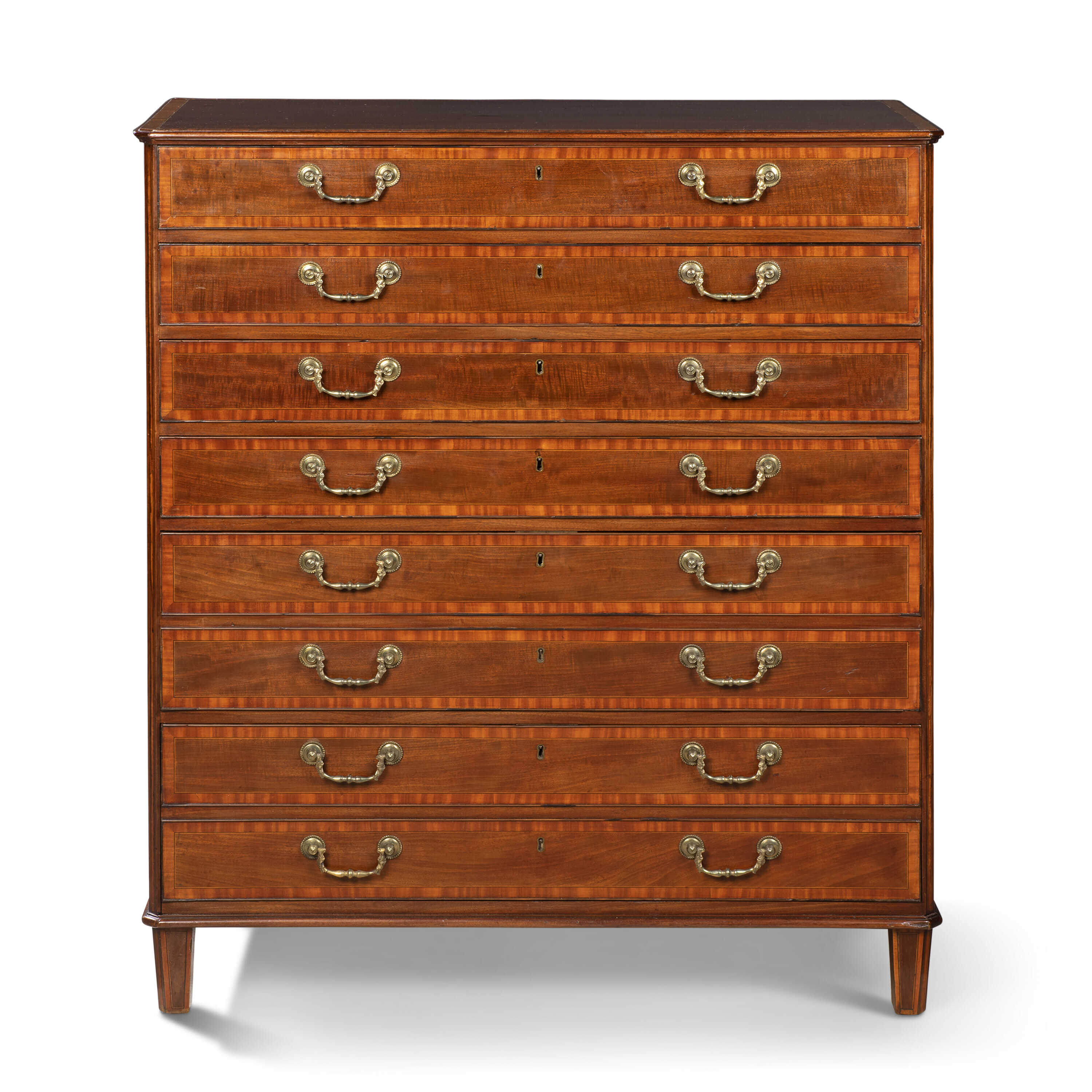 Establishing the provenance of a new piece — in the recently auctioned Collection of Lord and Lady Weinstock — could have been galling for Cator, as he had just signed off on a book that is a kind of catalogue raisonné of the pair's extant works, Industry and Ingenuity: The Partnership of William Ince and John Mayhew. Yet he seems almost pleased about it.
'I like to think that we will stimulate other people to make finds,' he says. 'There's a lot of furniture around that could be theirs, but we don't presently have the detail or the documentation — because of accidents such as fires, and because so many connections were lost when the contents of big houses were dispersed between the wars. In times to come, there will be no shortage of new [in the sense of newly uncovered] Ince and Mayhew pieces. But I hope people will still look back to our book, and think that we did a good job.'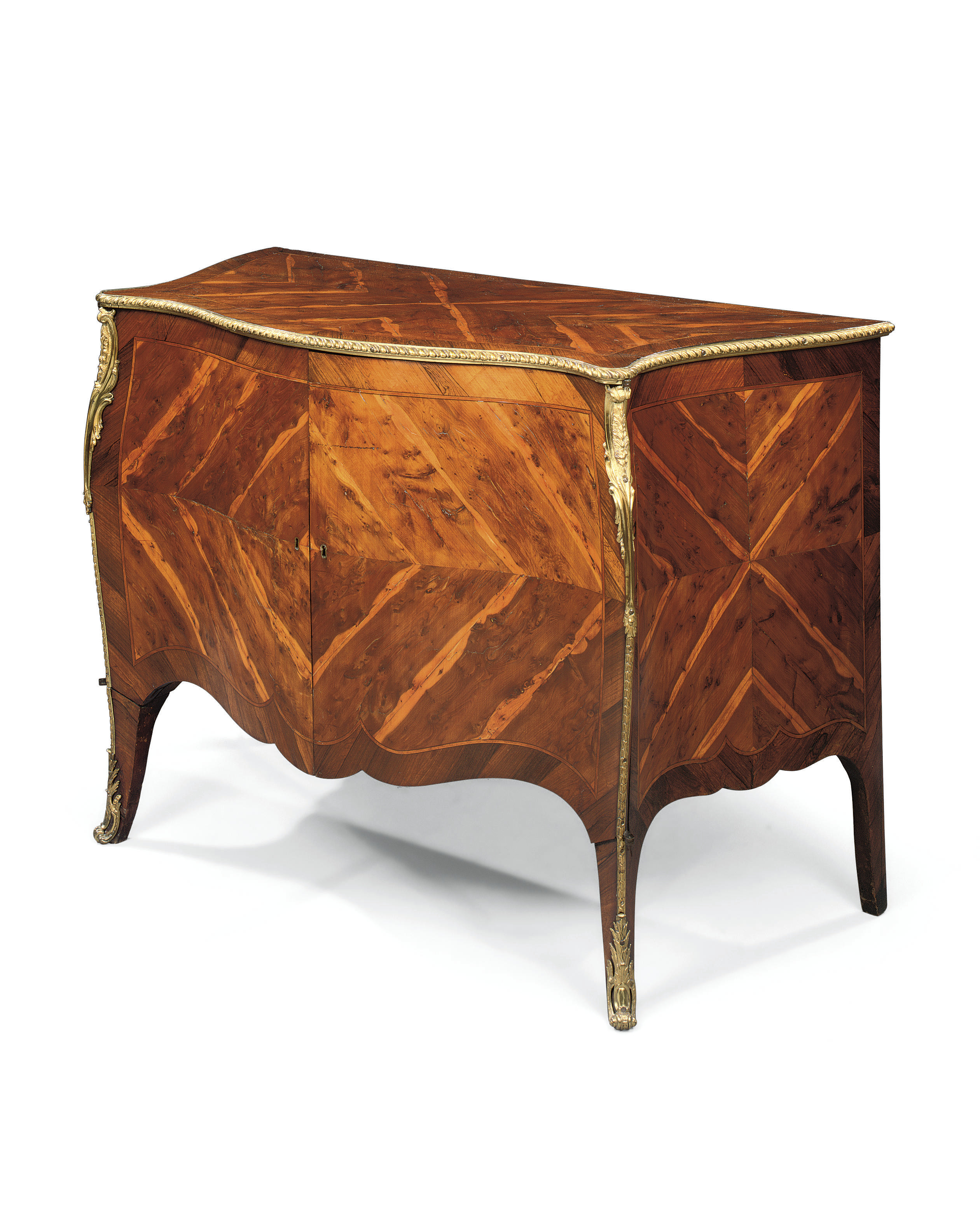 Cator, Deputy Chairman, Christie's International, is one of the firm's longest-serving specialists. He joined the company in 1973, and did his apprenticeship under Sir Hugh Roberts, who later became director of the Royal Collection, and who is co-author of the new book.
'I learned by cataloguing and describing things — alongside Hugh to start with,' says Cator. 'But then I was thrown in at the deep end. I would find myself standing in a cold country house, dictating thoughts to a freezing assistant who was there to type up whatever I said. In that scenario you can't faff around, you have to be decisive.'
The plan to write a definitive monograph on Ince and Mayhew arose during Cator's first decade at Christie's. It was born of the two authors' growing awareness of a kind of blank spot in their field.
'We began to notice a body of work which wasn't attributed to any of the leading cabinet-makers,' recalls Cator. 'A few things had been published — works from certain commissions — so people had a bit of an idea. But there was nothing to compare with Christopher Gilbert's wonderful book on Chippendale, which is still the benchmark for how a seriously researched work on furniture should be done.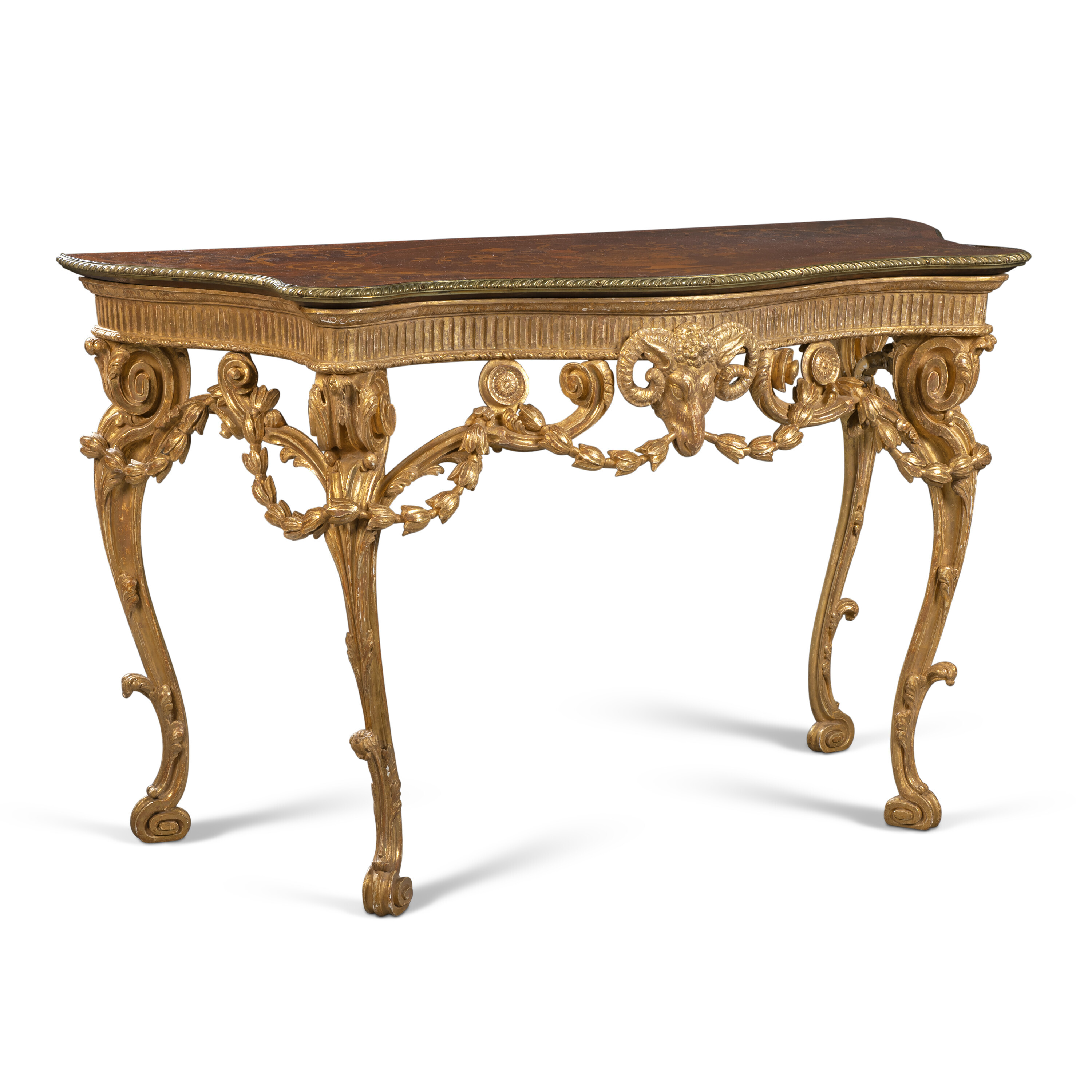 'We set out to create something in the same vein, and to the same same high standard. It has taken a very long time to do the detective work and establish a corpus.'
William Ince and John Mayhew are intriguing figures in the history of English furniture. They were both in their twenties, and had recently completed their apprenticeships as cabinet-maker and 'upholder' (upholsterer) respectively, when they went into business together in 1759. Their connection went beyond their commercial enterprise, however. In 1762 they married two sisters — Ann and Isabella Stephenson — in a double wedding at St George's in London's Hanover Square. During the early years of their collaboration, Ince and Mayhew lived in houses on either side of their warehouse in nearby Soho.
And when it came to the business, they were an extremely successful pair. They garnered numerous aristocratic clients who required large quantities of furniture; they collaborated with leading architects such as Robert Adam (their most celebrated piece, the so-called Derby or 'Etruscan' commode, below, was made to Adam's design); and, above all, they were flexible, innovative and surprisingly modern in their approach to the practical art of cabinet-making.
'Yes, they were quite adventurous, and they happily adapted their designs to different looks,' says Cator. 'Among their specialities was working in earlier houses that were being updated. Take the magnificent red four-poster at Burghley House, which was one of their most important commissions. It is executed in a slightly antiquarian manner so as to echo the interior of the house. That canopy on the bed — softwood beautifully covered in scarlet damask — is a fashion that derives from the 17th century. So this is a case of the mid-18th century looking back to an earlier age when beds were still prized possessions that carried royal associations.'
Ince and Mayhew were also skilled in what would nowadays be described as upcycling. 'They liked to repurpose things that were "pre-loved",' says Cator. 'Their bills often contain phrases such as: "Mirror, using your glass". The thing is, mirrors were expensive, and so Ince and Mayhew would come up with clever designs that built on the shape of the glass that their client had available, transforming it into something new and fitting for a redecorated house.'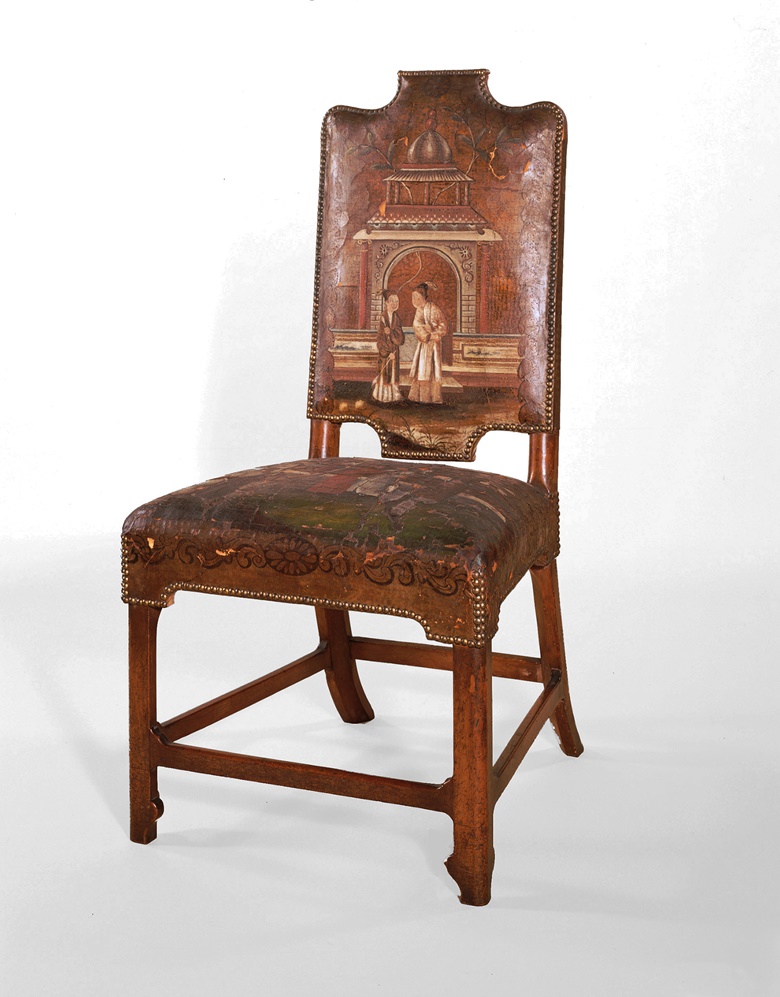 They also had a very contemporary restorer's eye. For Sir Cecil Bisshopp, Ince and Mayhew re-upholstered seven 80-year-old chairs (above) using antique leather that they must surely have sourced specially. They did such a convincing and sympathetic job that the upholstery was long believed to be original.
One of Cator's favourite Ince and Mayhew works is a commode made for the Earl of Exeter, below, into which marquetry from an older source has been incorporated. 'It is thought to have come from the dado of the Shell Closet, and to have been salvaged when that part of the house was reconfigured. Marquetry was precious, so they were right to make use of it. The top that goes with it is especially beautiful.'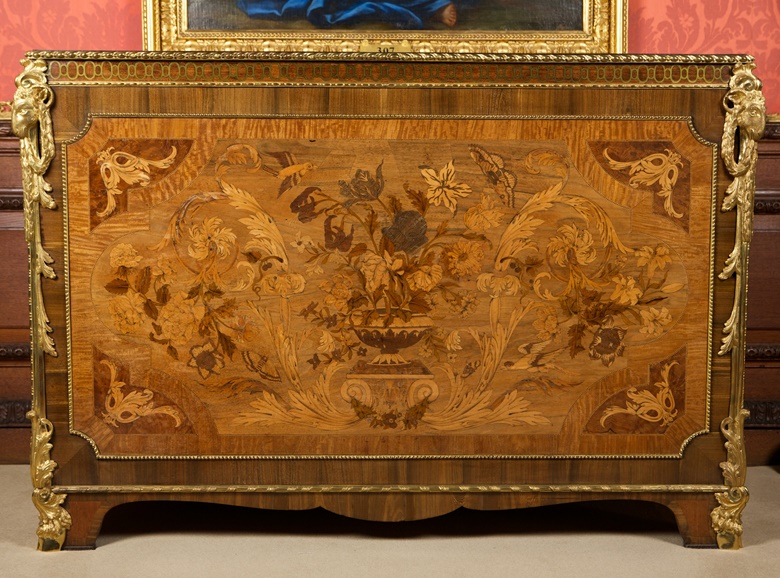 It's all very ingenious — and ingenuity is another hallmark of the Ince and Mayhew brand. Among their works is an imposing desk intended for a gentleman's library, with collapsible easels on each of the four sides, for holding large folios. When they are all deployed, the desk looks as if it has spread its wooden wings and is about to take to the air.
'The engineering is so good,' says Cator. 'But a piece like that is also a talking point and a novelty: you sense that some of their work was made for the sheer fun of it.'
The accepted view is that Ince was the artistic brain of the partnership, and Mayhew the business mind, the one who brought in the big commissions from moneyed patrons. Cator suspects that their roles were fluid. 'Ince was the lead draughtsman, for sure, and Mayhew was the contact person — but they were much more interchangeable than some people believe.'
That said, Mayhew was certainly the more financially astute of the two. He was the one who managed the books and totted up the profits. When his wife died young, he remarried into money.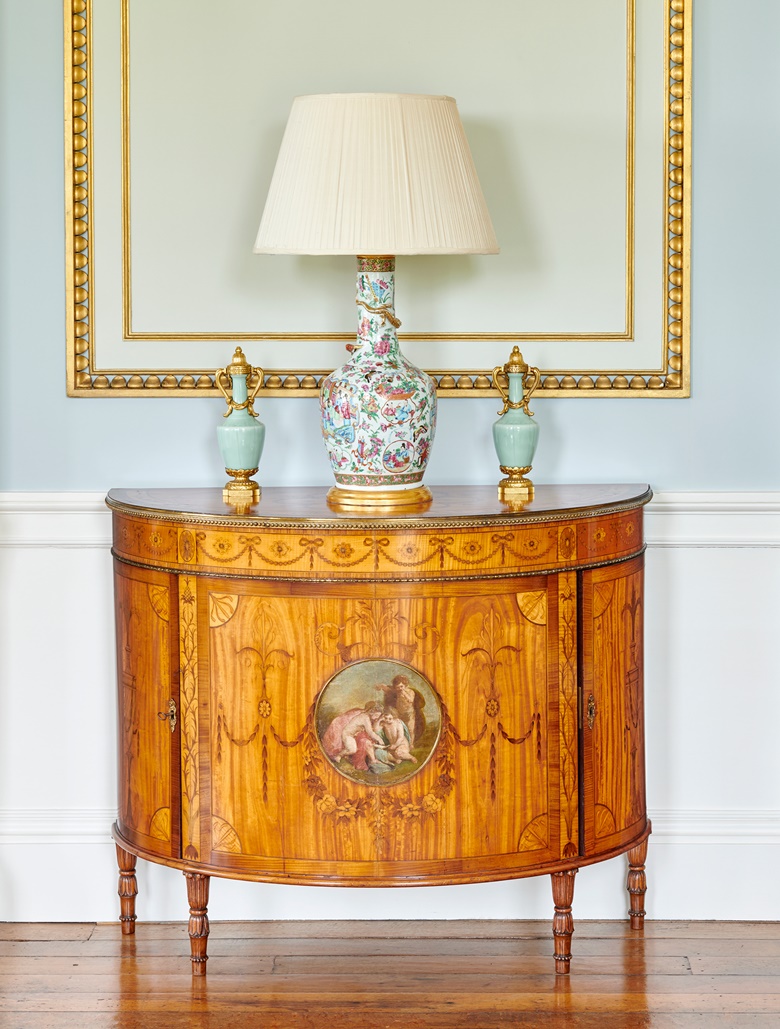 At the tail end of the century — after four fruitful decades of working together — Ince and Mayhew decided to dissolve their longstanding partnership. Their commercial divorce was not amicable and led to a bitter row about the assets.
'Money, as usual, was at the root of it.' says Cator. 'Mayhew claimed that a greater share of the business belonged to him, because he had kept it afloat at times when cashflow was a problem.'
One cannot help but wonder if, had both the Stephenson sisters lived, the disputatious brothers-in-law might have found a way to resolve their differences. Instead, the argument escalated to a lawsuit that was 'now pending in chancery' when Mayhew died a decade later in 1811, although it was eventually settled.
While regrettable on a personal level, records of the case survive, including a rich cache of documents relating to the Ince and Mayhew business. The legal papers were invaluable to Cator and Roberts when they were doing their research.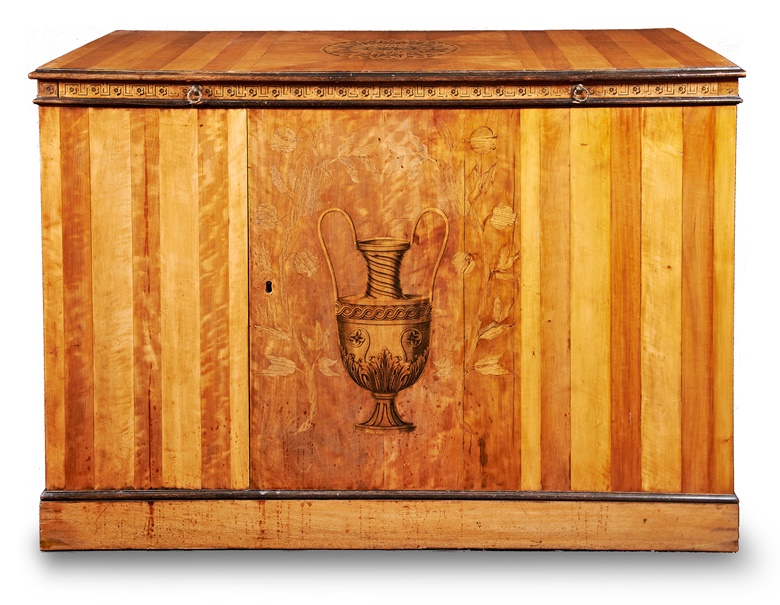 From conception to publication, the book, produced with considerable support from Christie's, has been 40 years in the making — which is much the same span of time as Ince and Mayhew were active. So, although the virtues of industry and ingenuity are cited in the title, the book's subjects are equally remarkable for their longevity, and also for their originality.




Sign up today

Christie's Online Magazine delivers our best features, videos, and auction news to your inbox every week

Subscribe




'They had little flourishes of their own, little illusionistic tricks that no one else did,' says Cator. 'And the numerous rectilinear commodes are Ince and Mayhew's own special innovation. There is a boxy pair they made for the Earl of Coventry in 1765 [above]. They have extraordinary inlaid stripes of holly and satinwood. Those vertical bands are faded, but when new they would have made a striking contrast of white and yellow — so bold and modern. I really do love those two commodes.'
Industry and Ingenuity: The Partnership of William Ince and John Mayhew by Hugh Roberts and Charles Cator is published by Bloomsbury
link